B called and asked for me to be home by 7 pm so he could finish working outside.  At 6:35 pm I knew it would be impossible to go to the last Target and be home by 7 pm.  I gave up on the 7 pm and ventured to the last Target in my area.  Everything was signed 70% off but I persevered and dug through everything, scanned items and found Easter was 90% off.  There Easter was very messy so it took some serious digging to find my goods.  I spent $12.69 and saved $103.68.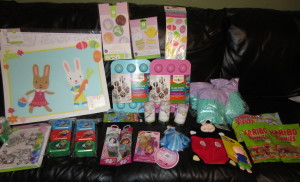 I found 2 more cake pop pans in spring colors for $1.69 each.  I know I don't need 3, but if I only use 1 cake pan, then what do I do with the rest of the cake batter?  The candy mold will be great for Easter or spring at $.19.  The gift bags were $.19 and $.29 each.  I found another placemat to match the one I found this morning.  I also found coloring placemats for $.29.  With 8 placemats in the kit to color, it will be a great countdown to Easter next year.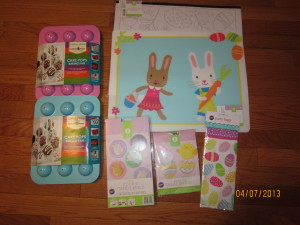 These spring suncatchers will be another great craft to do for only $.50.  An egg gripper which I really wanted to make egg dying easier for only $.20.  I found 2 packages of Thomas Easter treat containers for $.50 each.  So I will return 2 of them I got when they were 70% off at $1.50 each.  2 more Jelly Belly bubbles at $.29 each to add to the Valentine's Day gifts for next year.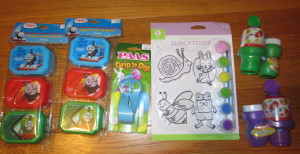 4 more bags of Easter grass at $.05 each.   I found blue and did not get this color this morning so picked them up.  I also found Swedish fish for $.74, which I totally love and are one of my favorite candies.  B got 2 bags of Haribo gummi bunnies at $.30 each, which are one of his favorites.
I found this Cinderella bag for $.50 which has tons of hair bands that are Cinderella colors, again to be added to my nieces Christmas gift.  I found the princess lip gloss set for only $.29. This will be a great addition to a little girl's birthday gift.  The two kites are small, and I am not sure how well they will work but for $.14 each I will give them a shot.  I got another Chicco Lil' Jack teether for $.39 and a Mickey Mouse blankie for $.49.  The last find was 3 packs of glitter glue pens for $.50 each.  I am not sure what to use these for yet but they were a great find.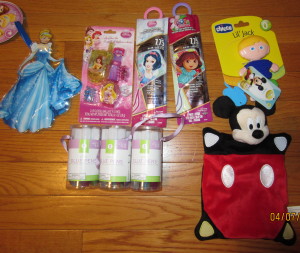 I found two pirates egg decorating kits at $.50 each so I will return the other pirate kit I got at 70% for $1.50.  I picked up the Jack and Neverland Pirate egg decorating for $.30; I thought it would make a good addition to the pirate birthday supplies.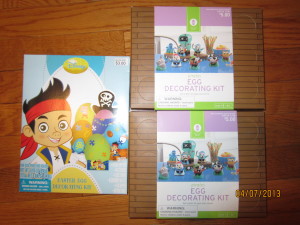 This is my fourth and last store today.  Click this HERE or HERE or HERE to see the other three store finds.
Disclaimer: I have never claimed to be any great writer. So any mistakes that are made are my fault. Sometimes I mix up names B, S, and P, but I think you can figure out who I am talking about. If you find any grammatical errors just fix it in your mind so it sounds right.