January 10, 2016
Comments Off

on Saturday Sales and Target Toy Clearance Finds
Saturday Sales is all about the great deals I found in-store or online.   I know this is only going to show you how much I actually do or don't shop.  I do find a ton of great deals online and even in the store.  So if I don't make any purchases you can see what I thought about purchasing in the past week.  Right now I am not going to include my Target Clearance Finds in this post.  Now that the clearance is gearing back up again at Target I am hopefully going to have some great finds.
The only shopping I did this week was at Target.  I went to all four Target stores hunting for 90% Christmas clearance.  You can read those here, here, here, and here.  I still have one more post to do about the hidden items I found the day after everything went 90%.  I went aisle by aisle and scanned a ton of items.  Stay tune for that.
I went to Kohl's this week to do some returns and exchanges and ended up returning everything.  It was not worth digging through their mess at this point.  Maybe in a few weeks when they have a really good sale.
I did run to Target on Thursday with B and P after S got on the bus.  We found two items in their toy clearance that we had to snag right away.  I got another Despicable Me advent calendar ($14.98 50% off) for Baby A.  He loves Legos and will love opening a new door each day next year.  B also ended up getting the Lionel Pennsylvania Flyer train for $35 (70% off).  He is hoping that this will work with one of the other train sets S already has.  In any event we got another huge train set.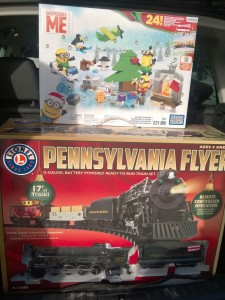 Did you find any great deals this past week shopping?
Disclaimer: I have never claimed to be any great writer. So any mistakes that are made are my fault. Sometimes I mix up names B, S, and P, but I think you can figure out who I am talking about. If you find any grammatical errors just fix it in your mind so it sounds right.