Wild Wednesday is about all the crazy or unbelievable things that have happened in the last week to me, in the news, pop culture, etc.
Since last Wednesday here is what has happened:
Last night, B made a late run around 8pm to run an errand.  Low and behold he came home with a new F-150 Power Wheels for S.  This was a black Harley Davidson edition.  OMG like we need two of them.  S opened the garage door and said, "Whoa, look at that!"  He was so proud to have two trucks to show me.  He was only too happy to pose in the middle of the trucks.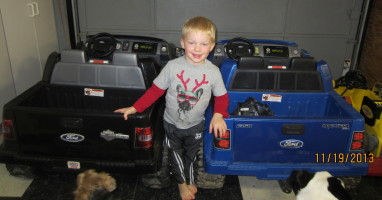 I picked up the Christmas pictures yesterday and got the Christmas cards made and ordered.  I am so happy to be ahead of the game.  Now I just have to work on getting updated addresses.
Is anyone else crazy like me and track who gave them Christmas cards from previous years and that is who you send cards too?  I used to send out over 100 Christmas cards and would only get like 25 in return.  WTF?  I did this for over 8 years and finally started tracking who sent me cards.  I have a color system I use on my Excel spreadsheet of addresses for each year like red for 2009, yellow for 2010, and if you sent for both years you would be orange.  I know it sounds crazy and obsessive but I am down to less than 50 cards a year.  I still send them out to close family even if they don't send me cards, but not to extended family.  Here is the color chart I used last year.  Does this make me crazy?

So Wal-Mart is matching Black Friday Ads this Friday????   I am so confused about this and have to do some serious research.  I may be sending B out Friday morning to do some shopping for me!
Why is it always you want something you can't have and when you can have something you don't want it?  Right now I love having slices of tomatoes on my sandwiches.  We had tons of tomatoes all summer in our garden and I would eat some now and then.  Now that I can't get one when I want it, I totally want to eat tomatoes every day.
Disclaimer: I have never claimed to be any great writer. So any mistakes that are made are my fault. Sometimes I mix up names B, S, and P, but I think you can figure out who I am talking about. If you find any grammatical errors just fix it in your mind so it sounds right.