I made a trip to Target last Thursday instead of going to the farmer's market.  I gave B my list of things I wanted from the farmer's market and went to Target.  I needed an hour to myself and I got it.  I spent $9.74, but before coupons it was just under $26.  Gosh I love coupons.
I found a few items for S.  I liked the button up shirt and think it may work well for Easter next year or just a dress shirt.  I can always put a long-sleeve shirt underneath it when it's cold out.  It was only $3 for a Osh Kosh shirt.  The 2-piece outfit was only $3, so $1.50 a piece.  The shirt I am not overly crazy about but S will wear it because it has pizza on it.  The shorts I like, but are too big for S to wear now or even next year.  I really like plaid shorts for boys.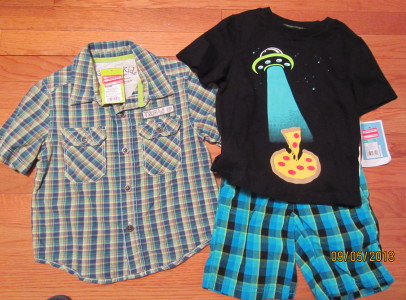 Believe it or not but we used all of our chalk.  We have been drawing so many race tracks for S that the only pieces we have left are tiny nubs that I cannot write with and trust me I've tried.  The 3-packs of chalk were only $.25 each (50% off from the dollar spot).  I really only got them so I could have the chalk holders.  I found chalk on clearance back in the summer section.  60 pieces of chalk for $2.48.  I would have like to buy them when they were 70% off, but we really needed chalk so I got them when they were only 50% off.

Ahh, shaving gel.  I don't use the stuff, so why did I buy it, I didn't.  There was coupon a few weeks ago that was $6/3 Gillette razors, refills or shave prep.  Don't you know that this shaving gel was only $1.97 a can.  I had two coupons and got six cans of shaving gel for free.  I am sure one of my sisters or neighbors will love it, if not I will donate it to our local breadbasket.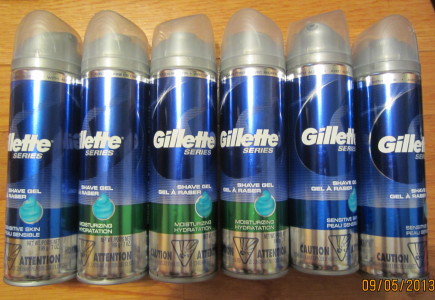 The UnReal Candy.  Each bag was on sale for $3.33.  I got coupons to make them free from Mom's Ambassador.  All I have to do is hold a little get together have a few moms and children try them and then fill out a survey on their website.  Twist my arm to try candy.  I have tried the peanut M&M's and they are good, there peanut butter cups taste like generic cups.  These two I am not sure on.  The  Milky Way one taste awful.  It taste nothing like a Milky Way.  The nougat and caramel are not the same.  I haven't tried the M&Ms yet.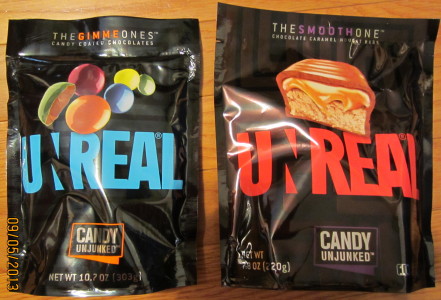 A great little trip to Target gave me a lot of stuff, but I did not have to spend a lot of money.  That is my kind of shopping.
Disclaimer: I have never claimed to be any great writer. So any mistakes that are made are my fault. Sometimes I mix up names B, S, and P, but I think you can figure out who I am talking about. If you find any grammatical errors just fix it in your mind so it sounds right.