I made a trip to Target on Thursday while I was out shopping at some other stores.  I didn't expect to find much, but surprisingly got quite a few good finds in the clothes department.  I spent a total of $45.68 which I thought was good for boys swim shirts.  I did buy ahead for S.  He will not be wearing these swim shirts till at least next year if not the year after that.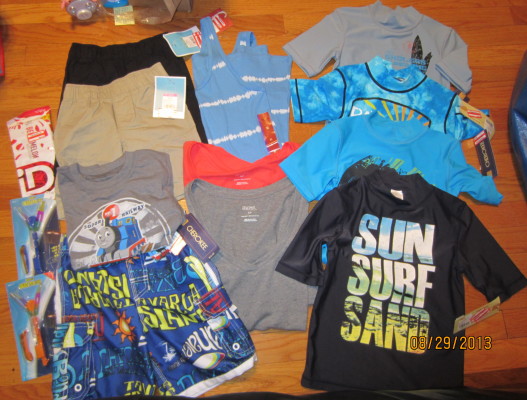 S is in need of a new Thomas shirt.  He currently has two of them and they are starting to get small on him.  This shirt was 50% off at $4.  The shorts will work for S when he needs to dress up.  At a $1.50 each I couldn't pass them up.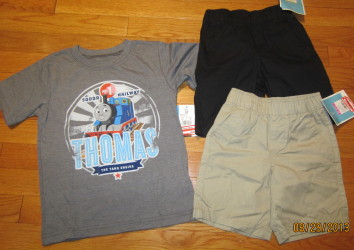 I found three swim shirts in the boys section that were XS and each were 70% off at $3.88.  S may be able to wear them next year, it just depends how much he grows.  Since I found the swim trunks in XS at 70% off price of $3.88.  I know S won't wear these for at least two years so I got the other swim shirt in a S at $3.88.  Hopefully when he gets to this size he will still wear clothes his mom picks out for him.  I also used a mobile coupon for $3 off $10 kids clothes purchase.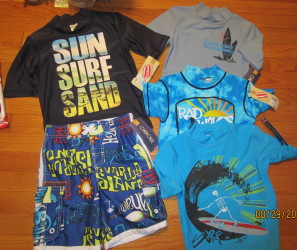 I found two cute sleep shirts (nightgowns) at 50% off, each $8.48.  The cotton on these were so soft I couldn't pass them up.  I also got myself a tank for only $2.40.
I was craving gum (even though I am not supposed to eat it because of my jaw) and found this for only $1.48.  The LED Spinners were not on sale, but were only $.50 each.  The boys across the street loved the ones S had so I said next time I went to Target if they still had some I would pick them up for them.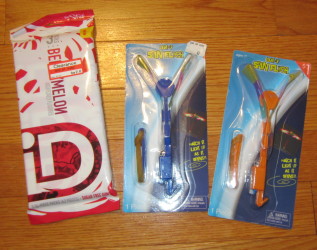 Disclaimer: I have never claimed to be any great writer. So any mistakes that are made are my fault. Sometimes I mix up names B, S, and P, but I think you can figure out who I am talking about. If you find any grammatical errors just fix it in your mind so it sounds right.