With all of the rain I convinced B to go to Target with me.  I had seen on a few websites that there dollar spot had marked down the blue dots to 70% off.  It is funny B and S were searching more than I was for good deals, and believe it or not S was loading the cart up with stuff for himself.  It was so funny.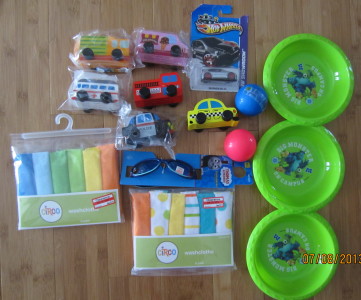 S found Monsters, Inc. bowls and asked if he could have one.  I told him yes, and the next thing I know he said can I have three.  It was hard to say no because three of them cost only 90¢, where if I had bought one a few days ago I would have paid $1.00.  Since this is something we will actually use I was okay with this.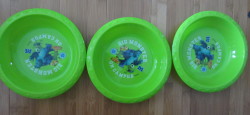 We found these bouncy balls that light up when we were on vacation and it was so much fun to play with them in the water.  We thought they would be fun to try with PJ if he would chase them and not put holes in the balls.  Now we can play fetch in the dark.  PJ did not like these when I tried, but I will keep trying.  These balls were only 30¢ each.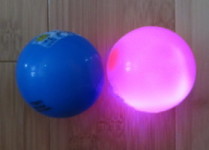 Last time we were at Target, S asked me about these and wanted to get some.  I told him when they went on clearance he could have one.  Well at 30¢ each he didn't get just one like I said, but one of each style for a total of 6.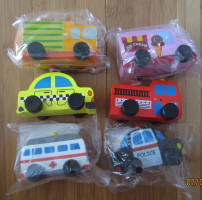 I got two packages of baby washcloths for a baby shower I am going to this weekend to make her a pack of 4 cupcakes.  When I have it done I will post what the batch of cupcakes look like and how I did it.  The washcloths were $3.75 each.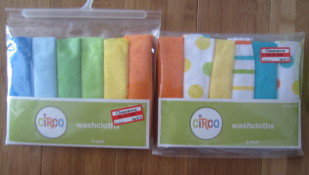 The only items that I did not buy on sale were the Thomas sunglasses ($6.00) (S loves to wear sunglasses and I like to have two pairs at all times.  Since he broke a pair that morning this worked out great for him.  The other was a new Hot Wheels car ($.97) that looked just like the new car we got on Wednesday.  S loves that he has a mini car of Daddy's new car.  Not pictured is Pepperidge Farm Rounds ($2.99).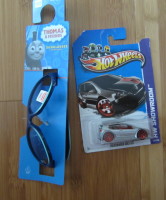 All in all I spent a total of $21.52.  Not bad for getting most of it at 70% off with the exception of the sunglasses, bread, and car.  I went to two other Targets on Monday and all of the Dollar Spot items that were 70% off had already been pulled for salvage.  We made it in the nick of time.
Disclaimer: I have never claimed to be any great writer. So any mistakes that are made are my fault. Sometimes I mix up names B, S, and P, but I think you can figure out who I am talking about. If you find any grammatical errors just fix it in your mind so it sounds right.