We went to this Target with the one goal of finding a Hello Kitty shirt to match the skirt I just found at the other store.  Like my store this store had gone through and collected all of the Halloween items in the departments and put them all together in the Halloween section.  I searched and searched but finally found what I was looking for…..the Hello Kitty shirt.  I spent $8.91 at this store and finally broke down and bought some Halloween snacks.  There signs still said 50%/70% but everything was 70%/90%.  Since it was getting later in the day 1:30ish, it was getting busy and pretty picked over.  I could find nothing hidden at this store.  I did however do a second walk through the Halloween section right before we left and found another Hello Kitty shirt and Lego set.
I found another set of bats for only $.10 and two more sets of goodie bags for $.49 each.  I also found some confetti for the bottom of the goodie bags and black and white mice to throw in the bags.  The confetti was only $.10 and the mice $.30.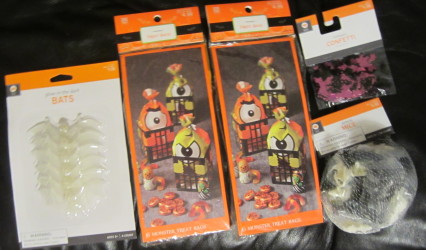 I was able to find two Hello Kitty shirts to match the skirt I found at the other store.  The shirts were only $.90 each and I found S the Despicable Me shirt and it was only $.90.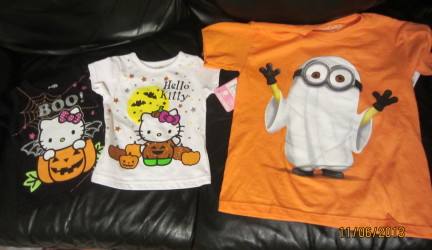 S is obsessed with Mickey Mouse so when I found this pumpkin decorating kit and showed him he was ecstatic.  Of course, I had to get Minnie Mouse to match.  They were only $.50 each.  Here is the lucky Legos I found for only $.39.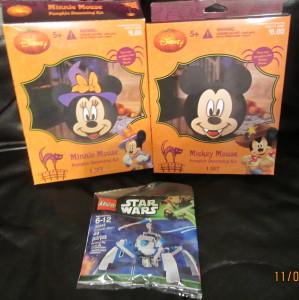 Of course, when I saw these pirate ship kits I had to get them.  They would make great centerpiece if and when S has a pirate birthday party.  They were only $.50 each.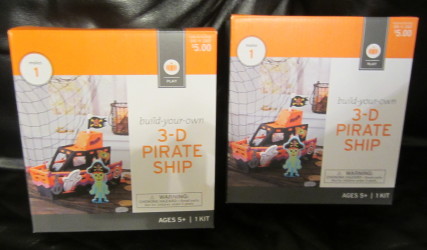 B and S love marshmallows so when I found the bag of marshmallows that are ghost I could not pass them up. They were only $.35.  Once S saw the Peeps he really wanted them (he didn't even realize they were marshmallows until I told him) and they were only $.30.  I love chocolate covered pretzels (white or milk chocolate) and when I saw these figured they would be perfect little snacks.  They were only $1.49 and I cannot wait to try them.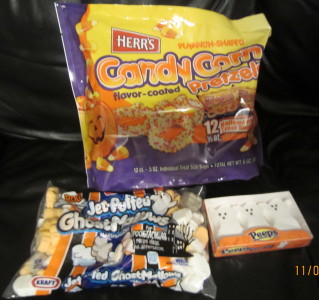 Disclaimer: I have never claimed to be any great writer. So any mistakes that are made are my fault. Sometimes I mix up names B, S, and P, but I think you can figure out who I am talking about. If you find any grammatical errors just fix it in your mind so it sounds right.