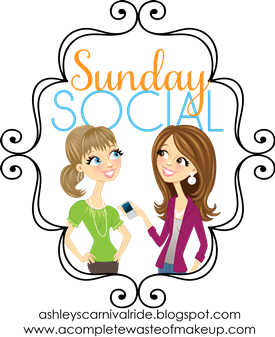 I am linking-up today with Ashley at http://www.ashleylately.com/ and Neely at http://www.acompletewasteofmakeup.com/ for Sunday Social.
4 favorite things to do on a weekend
Since B works a swing shift, weekends do not really mean anything to us because his day off change weekly, and since I'm a stay-at-home every day is like a weekend.  So I would say favorite things to do on a floating weekend are…
Go out on the boat
Being able to have some time to get things done while S is preoccupied by B
Sleeping in without S waking me up multiple times before I finally get up
Being able to paint my toes without S smudging them
4 favorite things about your best friend
My best friend is definitely my husband, so here are my four favorite things about B…
That he goes above and beyond what is expected of him when it comes to helping around the house and taking care of me.
That he always smells good.  No joke, he wears cologne every day.  The way the Estee Lauder Pleasures mixes with his pheromones, OMG.
That we get along so well.  Yes, we do argue, but when it comes down to it, we just fit together.
That he will stand up for me, and do the jobs that I don't like.
4 things you would do with $100,000
I'm such a frugal person I would probably want to save it all, but if I went against the grain this is what I would do with the $100,000…
Buy the cottage my Grandma and Grandpa built.  I don't know how, since the current owner does not want to sell it, but with $100,000 for a cash down payment, hopefully it would be enough of an incentive.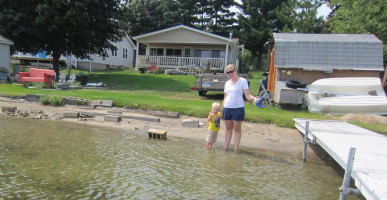 We visited the cottage last summer so I could see it again and I could tell S when he was older that he got to go there once.
The other 3 things would not be possible since I just spent all the money on my first.
4 favorite books you've ever read
Sex Education (Not what you think, a teenage couple meet in Sex Ed class)
 Anything by Mary Higgins Clark
'Twas the Night Before Christmas
4 favorite snack foods
Chips-Ballreich's are my fav
Cheese-I really love Parmesan, Mozzarella, and Mild Cheddar (nothing fancy, just plain cheese)
Pop (aka Soda)-I would live to drink carbonated beverages all the time, but limit myself to 1 Coke a day.
4 things that you must do daily
Check my Google Reader for daily updates.  I am always dying to see what Jen is going to say on Ramblings of a Suburban Mom and where I am going to find my freebies for the day.
Feed my dogs and cat, and make sure my cat gets at least one of his two insulin shots a day.
Take a shower
Watch TV, and play 'My Country' on my phone to continue to build my city
Related
Disclaimer: I have never claimed to be any great writer. So any mistakes that are made are my fault. Sometimes I mix up names B, S, and P, but I think you can figure out who I am talking about. If you find any grammatical errors just fix it in your mind so it sounds right.