September 1, 2013
Comments Off

on Sunday Social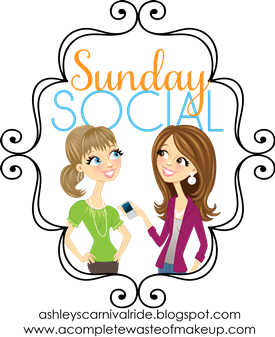 I am linking-up today with Ashley at http://www.ashleylately.com/ and Neely at http://www.acompletewasteofmakeup.com/ for Sunday Social.
What was your favorite trip/vacation/activity this summer?
I think our Memorial weekend vacation/out-of-town wedding was my favorite.  It was our first family vacation just the three of us and we had so much fun.  I can't wait to do another vacation just the three of us.
What was your favorite outfit look/clothing item this summer?
I love rompers and was able to get a new one to me (used) off of eBay.  I love the Old Navy rompers and was not able to get the ones I wanted a few seasons ago because they sold out so fast.  I finally found it on eBay and love it.  I wear it as a swimsuit cover-up and to wear it around the house as a comfy outfit.
What is one thing you wish you'd gotten to do this summer?
 I cannot thing of anything.  I asked B and he couldn't think of anything either.
What was your favorite song of the summer?
There is not really one particular song that I have been jamming to all summer.  I do love the song by Pink "Just Give Me A Reason" that features Nate from Fun. on it.
Storyteller Version courtesy of VH1
Actual Video featuring husband Carey Hart courtesy of Vimeo
What was your favorite movie/TV show of the summer?
I love so many shows that are on during the summer Big Brother, Rookie Blue, Suits, Covert Affairs, and The Glades.  These are only a few of my summer favorites.  I haven't gone to see any movies this summer but did recently see a good one on Lifetime "Escape from Polygamy."  It was really good and I could not tear away from it.
Related
Comments are closed.
Disclaimer: I have never claimed to be any great writer. So any mistakes that are made are my fault. Sometimes I mix up names B, S, and P, but I think you can figure out who I am talking about. If you find any grammatical errors just fix it in your mind so it sounds right.