[adsenseyu4]
Foto (Photo) Friday is my show and tell of pictures from the last week.   Instead of doing pictures from the entire week, I decided to make this week's pictures a recap of our vacation up in Holland, MI.
The first night we got to the hotel all S wanted to do was swim.  We tried a new type of life jacket (flotation device) to see if S liked it.  He was more comfortable in his life jacket so we switched to that and he was one happy camper.  Thank goodness we got a hotel with an indoor pool.  It was definitely too cold to swim outside.
Friday we went to the Dutch village.  It was definitely run down and past its prime.  S liked it and that is really all that matters.  Here are the only workers that were out in the park.  There were five total, the four dancers and a commentator of the dance.  No joke, two were tour guides for local schools visiting, one was in charge of the two rides (swings, and carousel), one did shoemaking demonstration and the other did cheese making demonstrations.
There was a larger than life stork with a nappy hanging from its mouth.  I thought it would make such a cute picture of S sitting in it.  Of course, S did not want to comply and instead wanted to play peek-a-boo with me.
S really wanted to ride on the swings, but I get very seasick/carsick so B had to ride with him.  You can see how enthused B is to be on the ride.  S loved it and kept giving me a thumbs up.
Since S is obsessed with trains we knew this would be the hit of the day and the main reason we came to the Dutch Village.  They were individual cars on a track that had to be pumped back and forth to make the cart move.  S loved riding in the cart, but was unable to go all the way around the loop on his own.  Good thing B was there to help push him along.
After we left the Dutch Village we drove around a little trying to get S to fall asleep for a nap.  He happily complied and when he woke up from his nap the first thing he wanted to do was go swimming.  He had a ball swimming until all the boys from a soccer team came and invaded the pool.  It was time for us to go when the chaos started.
Saturday morning, we went to a local farmer's market and then to the state park so S could play at the beach.  It was a little chilly, but with a jacket and some pants rolled up it was great.  S was so happy to be running around with no shoes on.
S asked if he could touch the water, and we had no problem letting him play in the 54° water.  I took his jacket off so he didn't get it wet, but the pants got soaked.  So S ran around the beach in his underwear and a t-shirt.  He had so much fun running up and down the beach.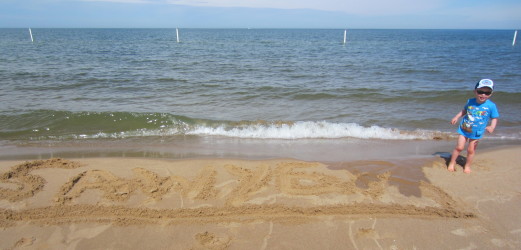 B wrote S's name in the sand and we got S to stand there for a picture.  Go figure the water started washing the name away the minute I try to get a picture.
We got some shorts out of the car and asked S if he wanted to climb the sand dunes.  I'm not sure if he knew what sand dunes were because he told me they were sand hills not sand dunes.
We walked out onto the pier.  S liked walking out to the end, but got scared toward the end and wanted to be carried.
The whole reason we went to Holland was for our friend's wedding.  Look how cute my boys are dressed up waiting for the wedding to start.
S did not want to dance, but I made him dance with me before we left the wedding.
The whole family wearing sunglasses for the wedding.  S was waiting to blow bubbles at the end of the ceremony.
The only picture of B and me at the wedding.  It always seems like if I want a picture of us together I am the one taking it.  Who has the longer arms?  B does!!!
S begged to go swimming the minute we went back to the hotel.  I told him I would take him swimming.  When I saw that the pool had been overtaken by the boy's soccer team again I opted out of swimming and made B go instead.  All the boys can play together.
S was ready to go home on Sunday after swimming for a while in the morning.  He talked to B the whole way home.  Me, I fell asleep, and could not stay awake if I tried.
All in all, we had a great vacation.  We left Thursday afternoon and got home Sunday afternoon.  We made sure not to pack too much into the vacation so we could have a relaxing fun time.  S did really well sleeping on his cot.  We weren't sure how he was going to do not being in a pack n play or his bed but he did great.  We couldn't have asked for better results.  The weather was great in Holland, MI.  It wasn't warm by any means, but with pants and a t-shirt or capris and a jacket we did great.  The rain stayed away which made for a pleasant time.  Can't wait for our next vacation.
Disclaimer: I have never claimed to be any great writer. So any mistakes that are made are my fault. Sometimes I mix up names B, S, and P, but I think you can figure out who I am talking about. If you find any grammatical errors just fix it in your mind so it sounds right.