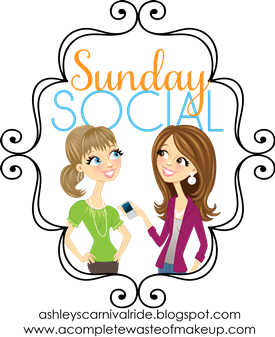 I am linking-up today with Ashley at http://www.ashleylately.com/ and Neely at http://www.acompletewasteofmakeup.com/ for Sunday Social.
What is your all-time favorite song?
Jessie's Girl-Rick Springfield
Who is your favorite singer/band?
Sarah McLachlan
What song reminds you of your childhood?
Jessie's Girl-Rick Springfield-My older sister loved Rick Springfield so this song was played a lot when I was young.
What songs put you in a good mood?
Jessie's Girl-Rick Springfield…I can't help but smile when this song comes on.
What is your music to rock out to in your car?
Country
What is the most embarrassing album or song you own?
I gotta tell you I cannot remember the last time I looked at any of my cds.  Most people would think my Lilith Fair cd would embarrass me, but I love that cd. 
Related
Disclaimer: I have never claimed to be any great writer. So any mistakes that are made are my fault. Sometimes I mix up names B, S, and P, but I think you can figure out who I am talking about. If you find any grammatical errors just fix it in your mind so it sounds right.