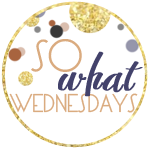 Today I am linking up with Life After I Dew for So What Wednesday.
Today I am saying so what if….
I do not feel like freezing any more veggies or fruits for S's smoothies.  Right now in the house I still have to do butternut squash and pumpkin.  I haven't even thought about doing apples yet.  I did not do nearly as much as I did in previous years.  I am hoping that S will start eating veggies more often.  I have never run out of fruits and veggies in previous years and have always had extras.  Hopefully this year I do not run out.
I cannot figure out why when I do a post for my blog it pulls a weird icon or an image from a widget when it publishes on Facebook instead of using a picture in the post.
The regular baseball season is almost over and I am already getting excited for next year!  Yeah we still have playoffs, but once the Tigers are out my season is over.
Derby gets gas so bad and is basically stinking B off the couch.  Guess I shouldn't of let Derby lick my Frosted Mini-Wheat's bowl (too much fiber).  As long as she doesn't do it to me, I'm okay with it.
 I have been lazy lately, and just order stuff off the internet so I don't have to go out to the store.  Sometimes it is just not worth it to load S up to go look for something when I can just order it on the internet and get it at the beginning of next week.   It's not like I need any of the stuff right now, so who cares?
I love to watch Ink Masters.  I do not have nor want a tattoo, but love to see the good and bad ones that are produced.  Not only does the person know they got a bad tattoo, now everyone who watches this knows, too.
S really wants to go to Disney World and I tried to talk him into going to Disney on Ice instead of Disney World.  It was worth a shot to tell him he could see Mickey and Minnie on the ice, but he wants to go to Mickey's house.  Guess we will see if we go to Disney World for his birthday.
What are you saying 'So What?' to this week?
Disclaimer: I have never claimed to be any great writer. So any mistakes that are made are my fault. Sometimes I mix up names B, S, and P, but I think you can figure out who I am talking about. If you find any grammatical errors just fix it in your mind so it sounds right.