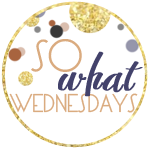 Today I am linking up with Life After I Dew for So What Wednesday
Today I am saying so what if….
It is going to be 95° outside today and we are doing S's Halloween pictures.  He is wearing pants and a long-sleeve shirt (handyman).
I read and see about all of these people who are losing weight and toning up there bodies.  If only I could burn calories and tone my body with the motivation I have in my head.  If that were the case I would be a skinny size 4 with no cellulite.  Since that is not going to happen, I guess I will stick with how I am.  NO WAY am I going to restrict what I eat and I HATE to workout!
S did not go to preschool this year.  I didn't think he needed two years of preschool.  He is going to have 13 years of school that he has to go to, why start so early?  There is a reason I quit my job and am staying home with S, to be home with him.  Am I knocking others, no but for me this is what I choose.
I made this a short one this week.
What are you saying 'So What?' to this week?
Disclaimer: I have never claimed to be any great writer. So any mistakes that are made are my fault. Sometimes I mix up names B, S, and P, but I think you can figure out who I am talking about. If you find any grammatical errors just fix it in your mind so it sounds right.