I know it's late.  I fell asleep last night at 7pm and never woke up till this morning.  I was so busy I did not get a chance to do this post till tonight.  Better late than never!
Here are all of the free items I received in the mail this past week.  I am on a quest to see how much I can actually get.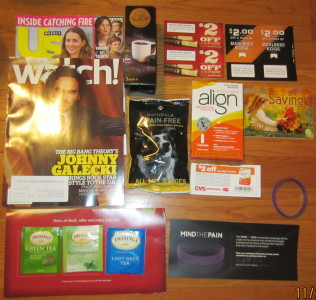 Magazines-US Weekly and Watch!
Real Cup-3 K-cups of coffee
Tobacco Coupons
Naturals Grain-Free-Chicken and Sweet Potato formula for dogs.
Align Probiotic Supplement-1 week supply to help fortify your digestive system with healthy bacteria.  It also came with a $2 coupon good for CVS.
Mambo Sprouts Coupon Savings Book
Twining's Tea-I got three flavors green tea, pure peppermint, and lady grey.
Mind the Pain rubber bracelet-This bracelet is to shine light about migraines.
This was a normal week for freebies.   I plan on reading the US Weekly and have no idea how I ever got subscribed to the Watch! magazine.  The Real Cups will go to my neighbor who has a Keurig coffee maker and likes coffee.  The tobacco coupons will be going in the recycling bin.  I plan on donating the Naturals Grain-Free dog food to the Humane Society.  The Align, Twining's tea, and Mind the Pain bracelet will be put in the giveaway box for my local breadbasket donation this week.
Disclaimer: I have never claimed to be any great writer. So any mistakes that are made are my fault. Sometimes I mix up names B, S, and P, but I think you can figure out who I am talking about. If you find any grammatical errors just fix it in your mind so it sounds right.