Here are all of the free items I received in the mail this past week.  I am on a quest to see how much I can actually get.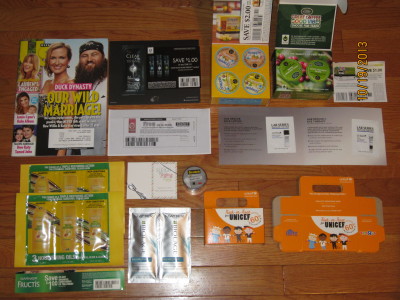 Magazines-US Weekly
Clear Men Scalp Therapy-2 in 1 Complete Care for Dandruff, daily shampoo and conditioner.
K-Cup Snapple 4-pack-2 Snapple Peach Iced Tea and 2 Lemon Iced Tea.  It also came with a $2 coupon.
K-Cup Green Mountain Coffee-2 Three Continent Blend, Medium Roast Coffee Extra Bold.  It also came with a $1 coupon.
Coupon for Free 4 lb. bag of Purina One Dog Food (up to $9.50)
Lab Series Skincare for Men-Age Rescue Face Lotion and Age Rescue Eye Therapy
Garnier Fructis Triple Nutrition Shampoo, Conditioner, Deep Conditioner-2 samples of Triple Nutrition for stronger, smoother, silkier hair.  Each sample each came with a $1 coupon.
Expressionery.com Holiday Tags-There was coupon code for free $10 and these cards with shipping were less than $10 so I got them for free and personalized them to go on any holiday treats we make and give to people as gifts.
Matrix Biolage Advanced Keratindose Shampoo & Conditioner-Shampoo & Conditioner for over processed hair.
Scotch Expressions Washi Tape-This is a patterned tape great for scrapbooking or card making.
Trick or Treat for Unicef Boxes-I got 10 of them.  They are to collect money for Unicef.  I had no idea what exactly they would be, but now that I have seen them they would make cute little boxes for S to fill treats with and give to the neighbors.  (That is if we get around to making any Halloween treats this year.
This week was a good haul. The Us Weekly magazine is already been read.  The K-cups will go to my neighbor who likes the freebies for her Keurig machine. B will buy the dog food to give to the Humane Society.  I will use the expressionery.com holiday tags, washi tape and Unicef boxes with S.  The Clear Men Scalp Therapy, Lab Series Skincare for Men, Garnier Fructis, and Matrix Biolage will be put in the giveaway box for my local breadbasket donation this week.
Disclaimer: I have never claimed to be any great writer. So any mistakes that are made are my fault. Sometimes I mix up names B, S, and P, but I think you can figure out who I am talking about. If you find any grammatical errors just fix it in your mind so it sounds right.