Silly Saturday is going to be dedicated to my pets. Since my son, S, was born three years ago my pets were my babies. Now they have taken a back burner in life. I will discuss all of the funny, gross, weird, etc. things that have happened in the last week with the pets. Right now I only have three pets, 2 dogs, PJ and Derby and one fat cat, Neezer.
Neezer-You have been very curious about Baby A this week.  I have seen you walking around watching and sniffing him.  You always used to like to sniff S and now it is Baby A.  Maybe you just like smelling that baby smell like everyone else.  I think it is funny because S and I think when Baby A is talking it sounds like a cat crying when they're getting a bath.  The funny thing is at one point this past week you were answering Baby A when he was talking.
PJ-You were so protective over Baby A this week.  Constantly following me around when I was carrying him.  I liked it that every time I went to change his diaper you had to follow me and climb up on my bed so you could see me changing him on the changing table.  When he was playing on the floor and I was not down there with him you would lay right next to him until I came back over.  You weren't around when S was this little so I had no idea how you were going to be, but you are proving to be a very protective and careful dog.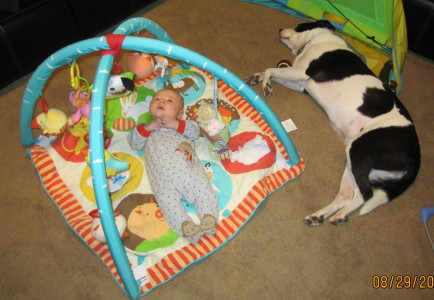 Derby-I know you did not like when we brought S home and you were no longer the baby.  You are definitely still unsure of Baby A and have been taking every chance when he is here or at home to sleep or sit next to me.  No worries we are not keeping him and you do not have another baby.  However, this baby will probably pull your hair and chase you like S did and still does.  Sorry!
Disclaimer: I have never claimed to be any great writer. So any mistakes that are made are my fault. Sometimes I mix up names B, S, and P, but I think you can figure out who I am talking about. If you find any grammatical errors just fix it in your mind so it sounds right.