Silly Saturday is going to be dedicated to my pets. Since my son, S, was born three years ago my pets were my babies. Now they have taken a back burner in life. I will discuss all of the funny, gross, weird, etc. things that have happened in the last week with the pets. Right now I only have three pets, 2 dogs, PJ and Derby and one fat cat, Neezer.
Derby-I know you really want to be human, and you proved my point this week when you took S's leftover popsicle stick and tried to lick it like a human.  Too cute, but sadly you are still a dog.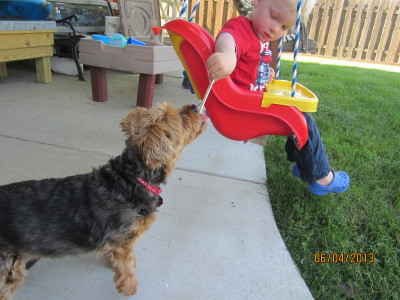 Neezer-I know you are getting older in age, but you have to groom yourself.  Getting matted hair in a short hair cat is not normal.  If you groomed yourself regularly you would have beautiful fur.  With beautiful fur you are more likely to get petted more.  I know how you like to be pet, so take care of yourself and reap the rewards.
PJ & Derby-I know last week I talked to PJ about not wanting to jump on the trampoline.  Who would have thought that you Derby would have felt left out and wanted on the trampoline this week with us?  I know you don't like to jump on the trampoline so I am not sure what got into you begging to get up on the trampoline.  You enjoyed yourself jumping for all of a minute until you realized S was up there with us and could get you and tackle you.  Next time just stay below the trampoline where you are safe and sound.
Disclaimer: I have never claimed to be any great writer. So any mistakes that are made are my fault. Sometimes I mix up names B, S, and P, but I think you can figure out who I am talking about. If you find any grammatical errors just fix it in your mind so it sounds right.