I a lot has happened this past month.  We started the month with a very busy Labor Day weekend.  My younger sister got married over the weekend so I was busy making signs for the wedding and B was making a wedding arch for them.  We decorated for the wedding all day Friday, and had the dress rehearsal in the evening.  Saturday we hung out at home in the morning and then went early to help out before the wedding ceremony.  It was a beautiful ceremony.  I would show pictures but it was an unplugged ceremony so no one has any pictures of the ceremony.  The reception was nice and it looked like everyone had fun.  P had so much fun dancing the night away.  I brought my nieces home with me and they spent the night so the newlyweds could have a honeymoon.
A week later we took the plunge and broke ground on an in-ground pool.  I cannot believe how fast they got the pool in and done.  We are waiting to do the concrete work around the pool until either later this fall or early next spring.  The kids and I have been enjoying it this past month with unseasonably warm weather.
S started fall soccer and loves it.  His team is made of 1st and 2nd graders.  Now that he is a 2nd grader he is part of the older ones on his team and now a leader.  In one of his games he scored 4 goals.  We were so excited with each goal.  Last year he never even got a chance to kick a goal toward the goal and now got 4 goals in one game.  We celebrated with ice cream after dinner.  S has started his catechism classes again and will make his First Communion in the spring.  He loves going to the classes and I am happy to oblige.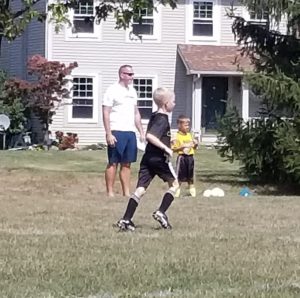 P is like a fish in water.  She swims as much as possible.  She has finally figured out that if she puts goggles on she can see under the water.  If she swims at the same time she can move around in the water.  It is like she figured out how to snorkel.  It really is amazing to see all of the new things she is figuring out and the funny things she says to us.  We started going back to her weekly playdates at the end of the month.  P was so happy to see all of her friends again and kept giving them hugs.  I was happy to see all the moms again, too.  P got her first stomach flu.  She woke up with a temperature and was inconsolable so after a time I finally brought her into bed with B and me.  She fell into a fitful sleep and then much to my surprise woke up and got sick all over the bed.  B and I split and took care of everything.  Thankfully after a day P had recovered and was back to herself again.
Dinky is no closer to being potty trained.  We are still trying but she just doesn't seem to get it.  She is so much harder to potty train than any of our other dogs or kids.  Dinky has gone swimming with us a few times in the new pool.  When she is in the pool she tends to either swim to the stairs or to my shoulders.  She has gotten very good at climbing up on my shoulders in the pool so she doesn't have to swim.
Dash is ever the hunter.  She is out and about getting anything she can.  Just yesterday she was chasing a squirrel trying to catch it when it went in the backyard.  Dash usually comes in at some time during the day or night for a little love.  It doesn't usually last long.  Dash is really lovey with S.  When he is in the playroom you are sure to find Dash in there with him.  He does tend to sleep with S at least once a week and when S gets up early in the morning you can find them both out on the couch together.  We have taken Dash into the pool a few times now.  She doesn't mind the water and when I take her in she doesn't get her claws out, she just chills in my arms.
PJ is PJ.  Nothing new really going on.  She is doing great playing with Dinky.  She is surprisingly very gently when she is playing.  She is still protective of P and always follows her around.
Disclaimer: I have never claimed to be any great writer. So any mistakes that are made are my fault. Sometimes I mix up names B, S, and P, but I think you can figure out who I am talking about. If you find any grammatical errors just fix it in your mind so it sounds right.