Manic Mondays are when I let you know what plans I have for the week.  Some weeks I may be very busy where other weeks there may not be any plans.  This week looks like a very quiet week.  We really don't have any plans.  Maybe we can get out all the Christmas decorations and work on that this week!  I have also decided to do a quick recap of what we actually did versus what I thought we were going to do.
This Week
Monday-Today we have some errands to run.  I need to go to Kohl's and use some Kohl's cash and coupons before they expire.  I also think we are going to make a trip to Target if S will go along with it.  Then later we are going over to my mom's so S can play with F (S's cousin).  They played together for hours on Saturday and when it was time for F to leave S was just crying and crying.  So we had to schedule another play date for today.
Tuesday-Not much going on today.  We are planning on running to Toys R Us tonight so that S can walk around and check out toys.  He circled some toys in ads, but is not sure about them so we are going to walk around Toys R Us so he can inspect toys.  He loves doing this and it really does help him decide on toys he likes and doesn't.
Wednesday-We have storytime in the morning and then depending on what we are making for Thanksgiving, we could be baking all afternoon, or just hanging out finalizing shopping lists for shopping this weekend. (Yes, we go with type's lists and what time the items go on sale.
Thursday-Happy Thanksgiving!! We are going to my parents for good eats and then who knows if we will go shopping.  It always seems to be up in the air until the last minute.
Friday-B may go out in the morning and brave the crowds for those few items that we don't really need but would like.
Saturday-S and I will be going to Home Depot for a build.  We will be building a tool box and battling the crowds.
Sunday-So far the only thing planned for today is to recover from the extended weekend.
Last Week Recap
Monday we just hung out at home all day.  Tuesday again we just hung out at home, but B did run and buy another F-150 for S just before bedtime.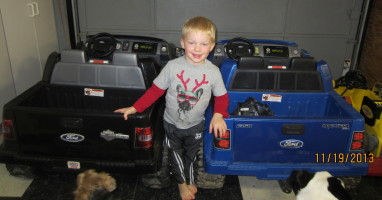 Wednesday we went to storytime and then later on hung up ornaments outside on the trees.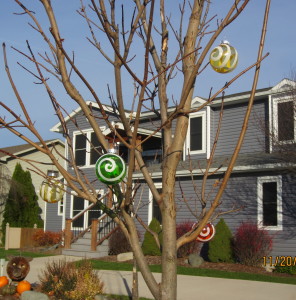 Thursday we went to zoo school and then came home and started decorating the house for Christmas.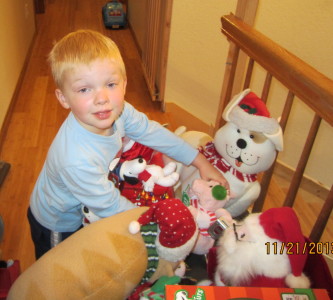 Friday B put up the tree and we put our homemade ornaments on the tree, paper ring garland and bells.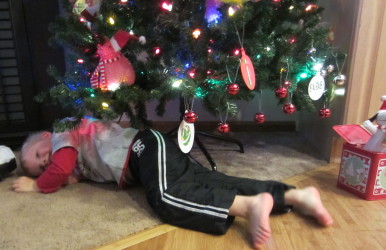 Saturday we just hung out at home and S played out in the garage with B most of the day.  Sunday I finally got that pumpkin roll made and for my first time ever making it, it turned out great.  S got to open his birthday presents from his grandparents because they are leaving for Arizona this week.  We spent the rest of the evening cooking pumpkins and freezing for S's smoothies.
Last Week
Monday-We have no plans for today so we are just hanging out at home.
Tuesday-Today we are running out to pick up our Christmas pictures so I can get started on our Christmas cards.
Wednesday-We have storytime in the morning and nothing else planned for the day.
Thursday-I am taking S to zoo school today since B is working days.  I think we are going to make a run to Costco afterwards to do a little shopping.
Friday-B is off so I have no idea what we are going to do.  At the rate we are going, maybe we can get our Christmas tree up????
Saturday-Again no plans for today, but with it being the weekend before Thanksgiving who knows what we may end up doing.
Sunday-Hopefully we will just be hanging out at home.
Disclaimer: I have never claimed to be any great writer. So any mistakes that are made are my fault. Sometimes I mix up names B, S, and P, but I think you can figure out who I am talking about. If you find any grammatical errors just fix it in your mind so it sounds right.