Foto (Photo) Friday is a show and tell of pics from the past year.  This week I am doing a recap of P's birthday week.  It started with getting ready for her party, having the party, going to Build-A-Bear, and finally cupcakes after dinner on her birthday.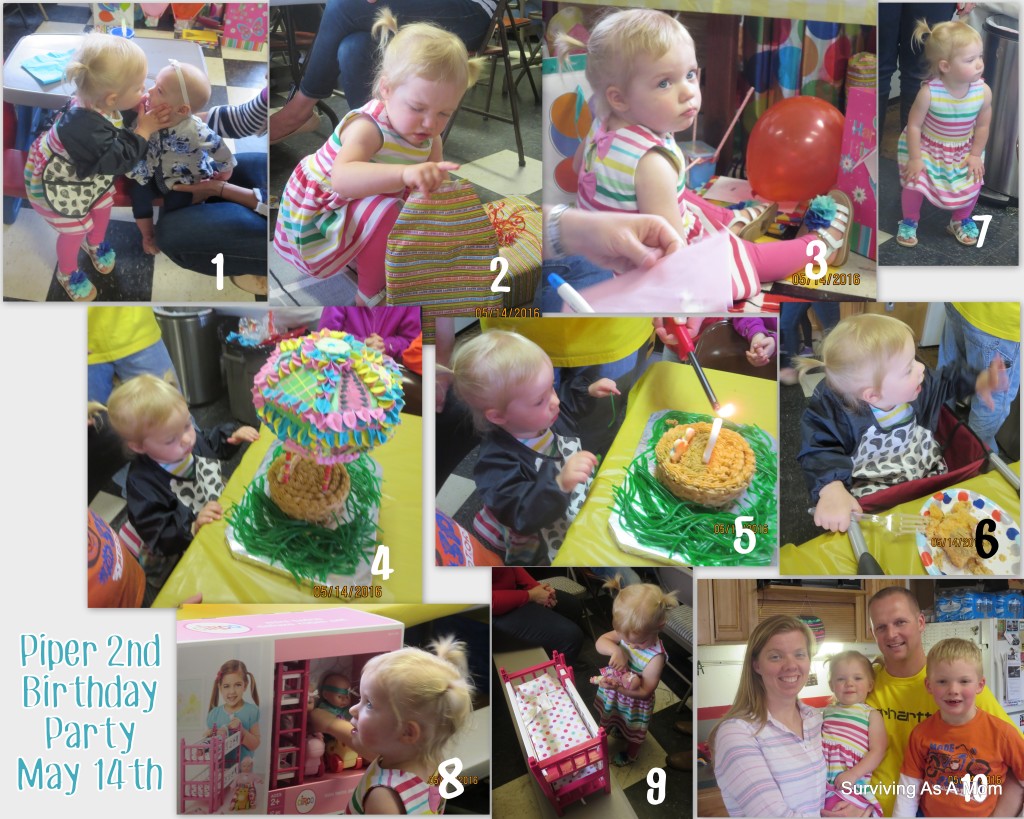 We had P's party a few days before her birthday because it worked out with B's schedule.  Since she naps at 1:30ish we started the party at 11am.  That is by far her happiest time of the day.
P was eating a snack before the party started and as soon as she saw Baby L she had to go see her baby.  She thinks Baby L is hers.  She gave Baby L the cutest kiss.
After everyone ate, P opened her presents.  She does pretty good at opening her presents with a little help.
Still opening presents.
P got to check out her cake with the sugar cookie balloon top.  She loved the little cookies that were her and S.  I made the basket as a small cake that was hers alone.
We took off the balloon top and sang to her.  She easily blew her candles out and was ready to dig in.
She is just like her brother and likes to eat neat so I cut up some of the cake on a plate and gave her a fork.
P got her groove on for everyone to see and enjoy.  She loves to dance and it is so much fun to watch her.
My sister came later and when P opened her gift she loved the babies and there beds.
She loved feeding the babies there bottle.  I think this won as her favorite present of the day.
Our family photo of the day.  P was so tired she leaned against B in the picture.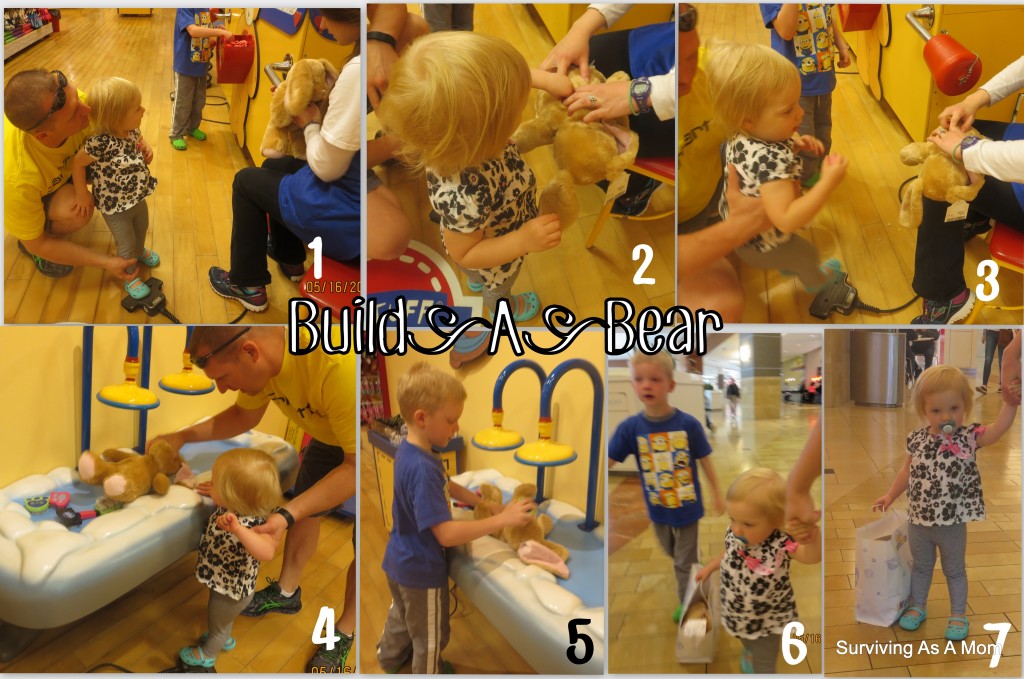 Every year for their birthdays we take the kids to Build-A-Bear.  We decided that we would take them each year for their birthdays until they are 5 and then they can decide.
P picked that she wanted to make a bunny.  We had it narrowed down to a kitty or bunny.  She chose the bunny over and over again.  She was not sure about stepping on the petal to fill her bunny.
She left it super soft and squishy.  When they turned the fill machine off P kept hitting the foot pedal to do more.
P put a few hearts in the bunny and S did one as well.
It was time to clean her bunny and she did a great job brushing it.
S had to help and wanted his turn at brushing the bunny.
P happily wanted to carry her own bunny in her own bag.
Carrying her own bag showing she is now a big girl and did not need a stroller (which we forgot anyways).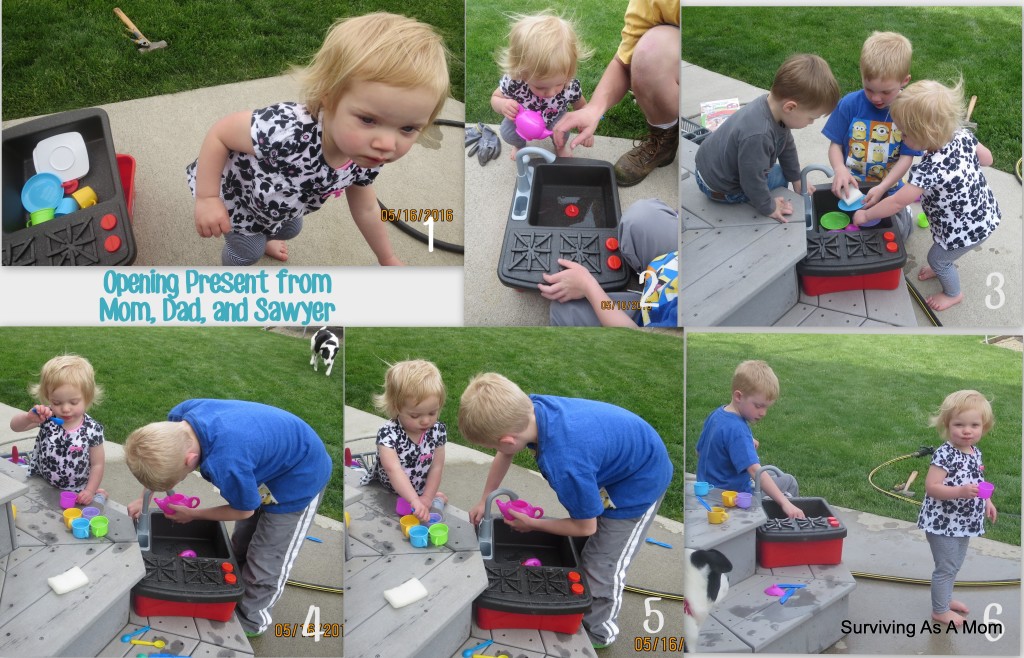 We waited to give P her present until her actual birthday.   We got her a sink that you fill with water and it recycles the water.  There is a pump and the water comes out of the faucet.
P opened up the Little Tikes sink and loved the dishes that came with it.
We brought out her tea set she got in addition to the dishes that came with the sink.  B assembled it and P started playing right away.
Of course they all wanted to play with it so P, S, and Baby A (no longer a baby) started playing right away.  They played together nicely and did not fight once about the new sink.
S and P started playing tea and S loved filling the teapot up for P.
P is happily waiting patiently for S to fill the teapot up again.
P is walking around drinking her cups of "tea."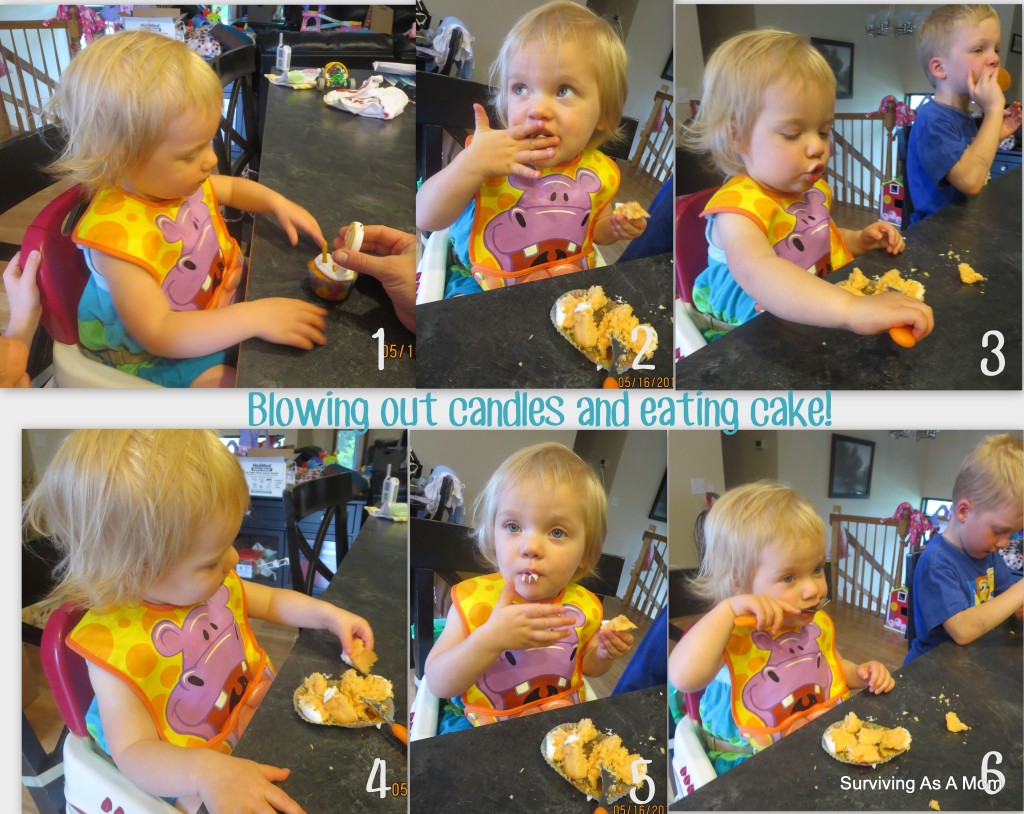 When I made P's cake for her party I also baked 4 cupcakes for us to have Monday night.  I didn't want to make another cake, but I also didn't want her to not have something on her actual birthday.
This time B got me two candles for P to blow out.  We sang to her and she actually blew them both out on her first try.
I cut the cupcake into pieces and she happily dug right in.
She decided to use a fork because her hands were getting messy.
Then she went back to using her hands when she thought we weren't looking.
Yup, I caught her and she knew it.
She started using the fork again.
It is amazing to see how far she has come in just a year.  I can only imagine what the next year has in store for us.
Disclaimer: I have never claimed to be any great writer. So any mistakes that are made are my fault. Sometimes I mix up names B, S, and P, but I think you can figure out who I am talking about. If you find any grammatical errors just fix it in your mind so it sounds right.