October 2, 2013
Comments Off

on Wild Wednesday
Wild Wednesday is about all the crazy or unbelievable things that have happened in the last week to me, in the news, pop culture, etc.
Since last Wednesday here is what has happened:
S went to his first high school football game last Friday and loved it.  I didn't know what he would think of the football game, since he had never seen one before or even watched it on TV.  I know, I know, but we are not football people.  We watch baseball through October and then start watching again in March for preseason.  S caught on to the game pretty quick, and realized when the ball was caught it was a good thing and would stand, clap and cheer.  He managed to last until halftime and then wanted to go home.  He liked watching the bands halftime show, but really loved watching the majorettes twirl their batons.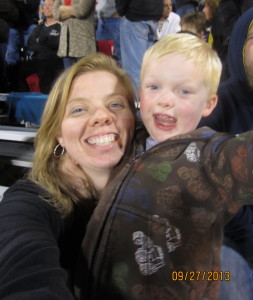 The new Fall season of TV shows has officially kicked-off and I am loving all of the shows that are no longer repeats.  I am also discovering some new shows and trying to decide which ones I am going to continue watching and those I am going to ditch.  I will fill you in when I have decided on some of them.
STINK BUGS-they are everywhere.   B replaced our back door on Saturday and at one point we counted 8 stink bugs on the walls around the door.  There were probably 3 times as many on the outside of the house.  They have not left us yet.  With the unseasonably warm weather (which I love) the stink bugs have been crawling everywhere.  I cannot believe how many there are and somehow they always manage to sneak in the house.
Look how similar these two bugs are!
I see Vanderpump Rules is coming back on next Monday.  So excited to watch it!  I love all the drama (even if it is fake).
Did the government really shut down?  It seems like this is not even real.  How is it possible that we cannot function in the United States, yet we condemn other countries for how they function?  I guess it is just a wait and see game.  Can you imagine if you were on a school field trip to go and see the Statue of Liberty or a National Monument in DC and they are closed?  I live in Ohio so that is one long bus ride to get there and cost a pretty penny.  I have done both in high school and I would have been so bummed if I wouldn't have been able to experience those things.
Disclaimer: I have never claimed to be any great writer. So any mistakes that are made are my fault. Sometimes I mix up names B, S, and P, but I think you can figure out who I am talking about. If you find any grammatical errors just fix it in your mind so it sounds right.