July 24, 2013
Comments Off

on Wild Wednesday
Wild Wednesday is about all the crazy or unbelievable things that have happened in the last week to me, in the news, pop culture, etc.
Since last Wednesday here is what has happened:
The dogs got to go out to B's cousin's pond last week and swim and boy did they both enjoy it.  I forget how much PJ loves to swim, and there isn't really anywhere for us to take her and let her swim on a regular basis.  Yes, we could take her to my mom's and let her swim in the pool, but then they have to deal with dog hair.  Not the most fun thing to do is swim and have dog hair sticking to your wet skin.  Yuck!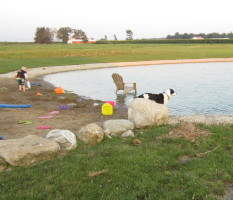 So Kate and William finally had their baby.  It is about stinking time.  The whole world had only been talking about this for the past 7 months.
I have made multiple trips to Target this week stalking the summer and toy clearance.  I think the workers are getting annoyed with seeing me so much.  Oh well, they can get to know me even better in the next few weeks and then it will be back to school clearance time!!!  It never ends.

We got to take the boat out Monday night and it finally ran good after 12 years of trying to get it to run like it originally did.  We have been able to get it to run pretty good, but never how it originally ran before it sucked the ski rope into the jet engine.  It may be a late start for boat rides this summer but it will go well into the fall.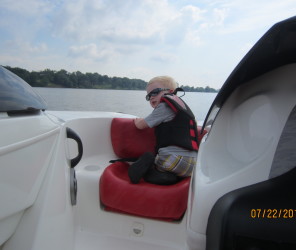 This morning I am off to hit the Targets again hopefully summer clearance will be 90% like many stores were yesterday and if that is the case, S and I will have a long morning of going to 4 Targets.  I hope there is still stuff left.
Disclaimer: I have never claimed to be any great writer. So any mistakes that are made are my fault. Sometimes I mix up names B, S, and P, but I think you can figure out who I am talking about. If you find any grammatical errors just fix it in your mind so it sounds right.