September 28, 2013
Comments Off

on Unmentionably Cheeky September Review
I decided to try a new subscription this month.  I used to love my Victoria Secret underwear and then they changed the style.  My old style has finally started to give out and yup it's time to try new underwear, so I did.  I switched to Jockey's and they are just not for me, so I went back to Victoria Secret's  to try them again and they are not the same style or quality they used to be.  So this is the reason why I wanted to try something new.
I have seen Unmentionably Cheeky before and this month they came out with a deal I just could not pass up. 2 for $6 using the code FALL13, which locks in that price for life.  There is no choice in what you get they use the saying "WYSIWYG (What you see is what you get)."  If I were to shop at Target trying different undies I would easily spend $3 a piece.
When I got the package in the mail, it came in a small black package which I thought was a freebie I was getting in the mail.  There was nothing on the outside of the package to let anyone else know what I got.  When I opened the package the undies were wrapped nicely in purple tissue paper.
The first pair of undies was just your standard bikini cut cotton undies.  They were hot pink with a little bit of lacy trim in the front.  I like them at first glance and then after inspecting them saw how little coverage there was on the back.  I am all about not having a wedgie and as B said, "Those look like wedgie undies."
Results: These were an instant wedgie.  No thank you and I took them off after about two minutes of walking around.  Guess it was worth a try, but do not want another pair.
The second pair of undies I got was lacy and looked like a boy short thong.  That is the best way to describe them.  I can say that I have never owned a pair of lacy undies that you wear during the day (if you know what I mean).  So there is always a first and I tried these.  Did I mention, I am not a thong girl, and hate them with a passion!
Results: These undies were as expected.  They were a mix between a thong and boy shorts.  I didn't love them, but don't think I will wear them again (during the day)!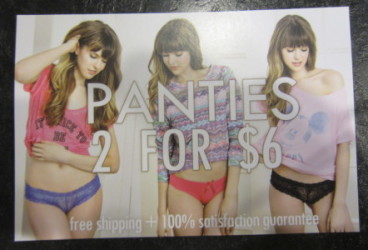 Overall, the undies did not work out for me.  I think I am definitely a specific body type and most undies do not work for me.  If you are interested in trying Unmentionably Cheeky please click here.  In each monthly subscription you will get two pairs of undies for $6 when using the code FALL13.  There is a 100% satisfaction guarantee with the undies.  I am not sure what that entails, but will let you know when I find out.
Disclosure: This post contains referral links.  All thoughts and opinions are all my own.
Disclaimer: I have never claimed to be any great writer. So any mistakes that are made are my fault. Sometimes I mix up names B, S, and P, but I think you can figure out who I am talking about. If you find any grammatical errors just fix it in your mind so it sounds right.