November 2, 2015
Comments Off

on TuoMio Baby Sleeping Bag, 6-18 Months Review
Disclaimer:  I received this product for free or highly discounted in exchange for an honest review.  All thoughts and opinions expressed are mine.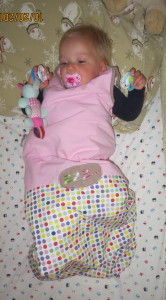 P has always been a hot baby and definitely takes after B.  They always say you put one more layer on the baby than what you are wearing.  P is the opposite and she wears one less layer than what I am wearing.  When S was a baby he wore a pair of pajamas and then a fleece sleepsack every night.  When he got older he wore a cotton pair of pajamas with fleece zip-up pajamas over top.  He was never hot and takes after me and would prefer to be warm instead of cold.
When P was a baby I would put a sleepsack over her pajamas and when she got up she would be covered in sweat.  I learned fast that she was better off sleeping in thin pajamas.  Once I figured that out she would sleep much more soundly at night.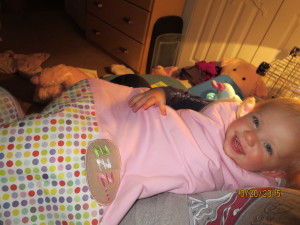 With winter sneaking up on us, I needed to figure something out for P when she sleeps.  She needs some type of blanket on her but I am not ready to give her one in her crib yet.  The TuoMio Baby Sleeping Bag has become the perfect solution.  It is made of cotton and reminds me of a thin comforter that you would have on your bed.  It is a soft pink color with a polka dot print on the bottom.  P wears between 12mos and 18mos clothes.  When I saw how big this bag was I knew she could use it for the entire winter and then some.  In fact, the bag was so big I wasn't even worried P would get tangled in it.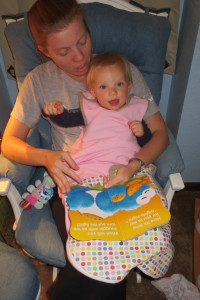 She has slept in it for about a week and half and doesn't seem the least bit phased by it.  The only time P ever gets mad is when she wakes up in the morning and can't stand up in it.  The minute I unsnap the two shoulder straps she jumps right up.
The TuoMio Baby Sleeping Bag is $35.99 on Amazon.com.  Click here to order TuoMio Baby Sleeping Bag.  #TuoMioBabySleepingBag
I was chosen to review the TuoMio Baby Sleeping Bag through Tomoson.com.  Basically how it works is you select items you would like to review and if they chose you, the product is purchased through Amazon.com.  If you have a Prime Account with Amazon shipping is free and a coupon code is provided from the company making the product free or highly discounted.  In exchange they are looking for an honest review on their product.
Disclaimer: I have never claimed to be any great writer. So any mistakes that are made are my fault. Sometimes I mix up names B, S, and P, but I think you can figure out who I am talking about. If you find any grammatical errors just fix it in your mind so it sounds right.