September 25, 2016
Comments Off

on Tryazon Oodles of Fun Cupcake Party Review
Disclaimer:  I received this product for free or highly discounted in exchange for hosting a party.  All thoughts and opinions expressed are mine.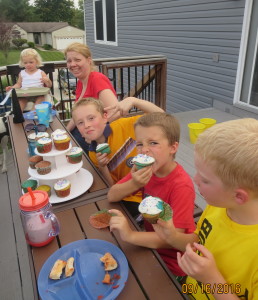 I love to host parties for my friends and family.  I have hosted parties through different companies and this is through Tryazon.  This party was an Oodles of Fun Cupcake Party.  This party was all about showing the new baking tools created by Sweet Creations.  Sweet Creations is a new product line under the Good Cook brand.  Sweet Creations has over 200 products and seasonal lines for home bakers.  Currently they can be found at some Wal-Mart stores and Amazon.com.
My Oodles of Fun Cupcake Party kit included: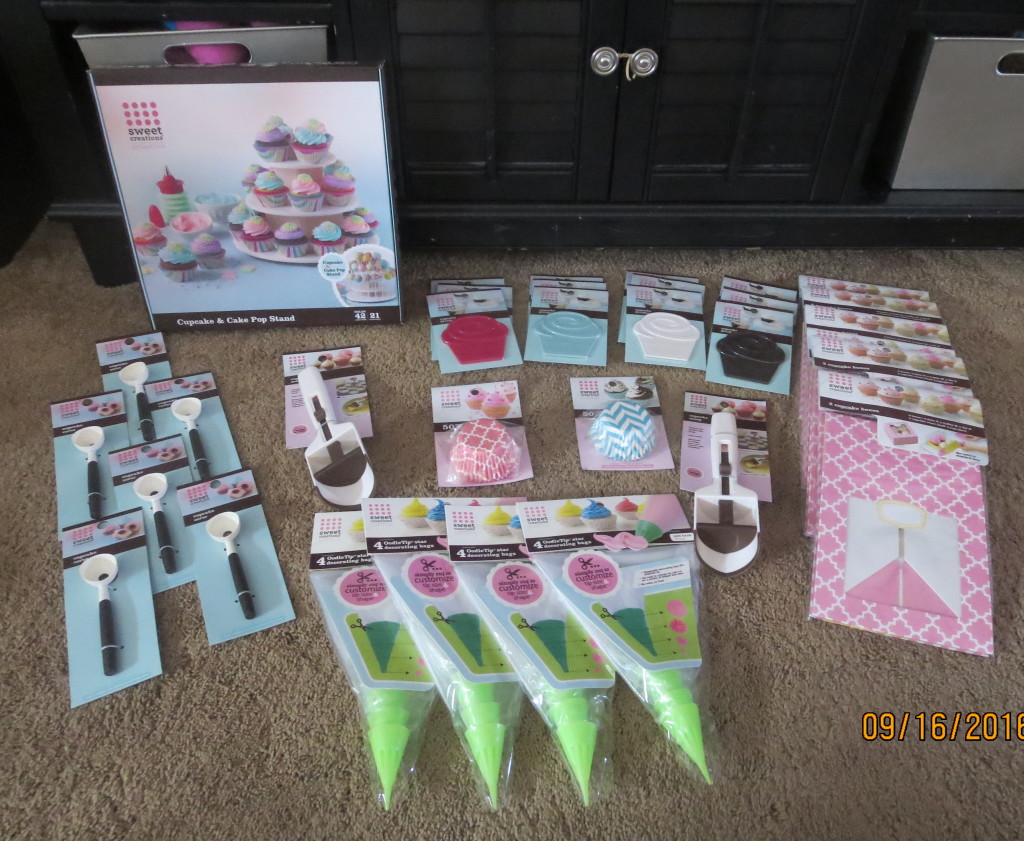 1 Cupcake Stand
12 Cupcake Dividers
16 Oodle Tip Stars
6 Cupcake Corers
2 Cupcake Batter Scoops
12 Cupcake Boxes
2-50ct Cupcake Papers
I could not believe how much was included in this party kit.  I knew that everyone would be walking home with some nice swag.  Because I invited families I sent home a nice swag bag home with each family instead of each person.  Each family got Oodle Tip Star piping bags, a cupcake corer, 2 cupcake dividers and 2 cupcake boxes.  The families were happy and surprised by what they were going home with, because they were just expecting to come, have a good time, and eat cupcakes!
I started out doing the prep work ahead of time and making a dozen cupcakes.  I didn't want to core the cupcakes and my neighbor put a special request in for Cookie Dough Cupcakes.  Instead you make the cookie dough ahead of time, roll it in balls, and freeze it.  I used the cupcake corer to make perfect little cookie dough balls before I froze them.  Although it was not what the cupcake corer was made for it made all the balls the same shape and size.  This had to be done a few days in advance so I could put the frozen cookie dough balls in the raw cupcake batter.

Making the Cupcakes
P and I made the cupcakes Friday morning so they would be fresh for the party that night.  I made vanilla cupcakes and we divided the batter into three equal parts to dye them different colors.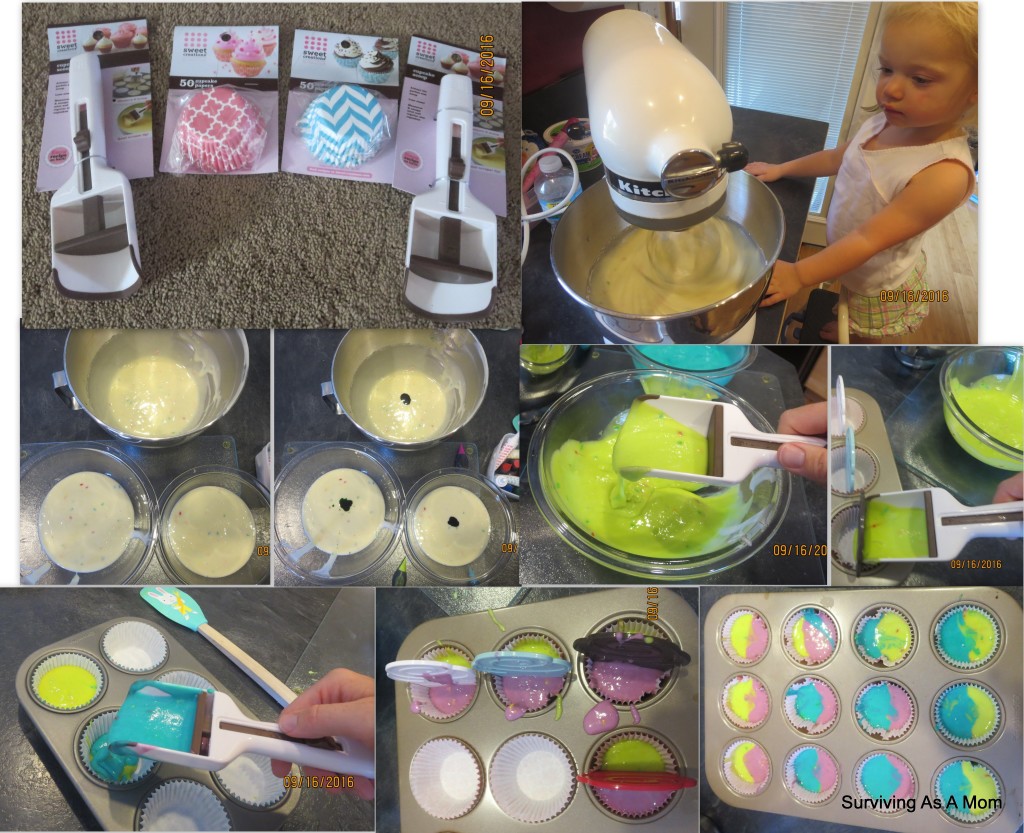 I used four cupcake dividers at a time and scooped half of one color on one side and half of another color on the other side.  I only did four cupcakes at a time but it wasn't fast enough because by the time I got done doing the first four halves when I started to do the other halves it had already bled under the divider to the other side.  After doing the first four cupcakes I figured out to do the first four halves and when I did the other halves I did the last first and the first last.  After I got the dozen cupcakes filled with batter I stuck one raw cookie dough ball into each cupcake.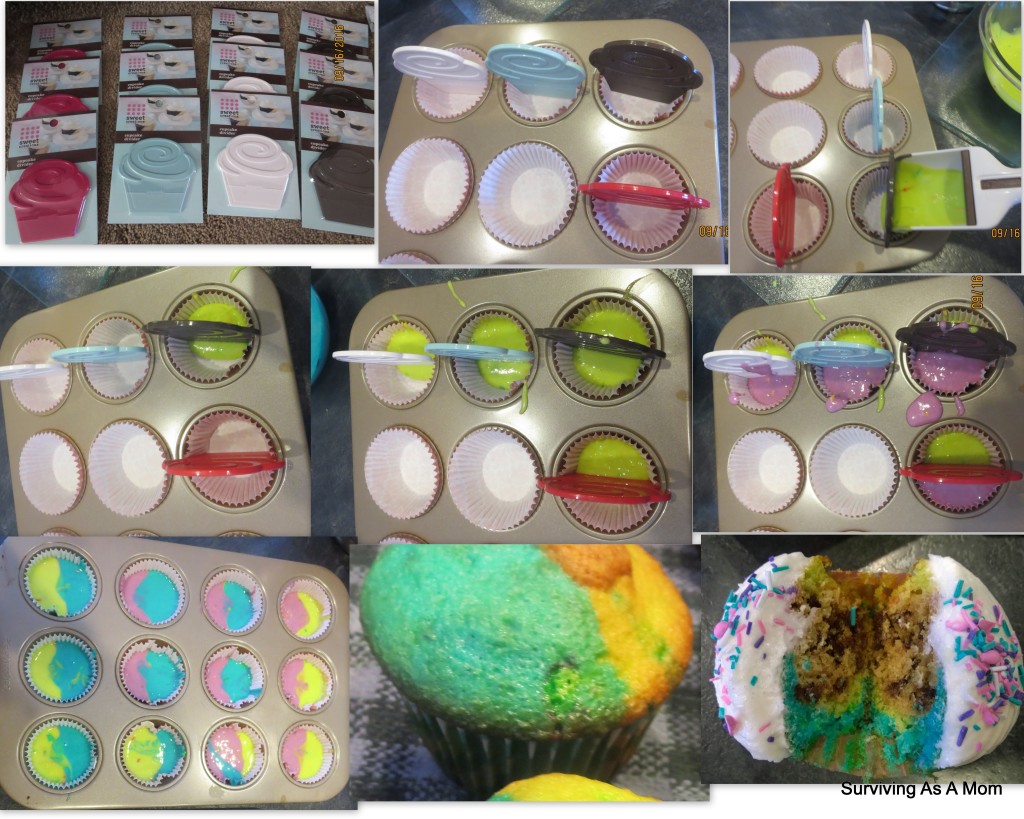 Frosting and Decorating the Cupcakes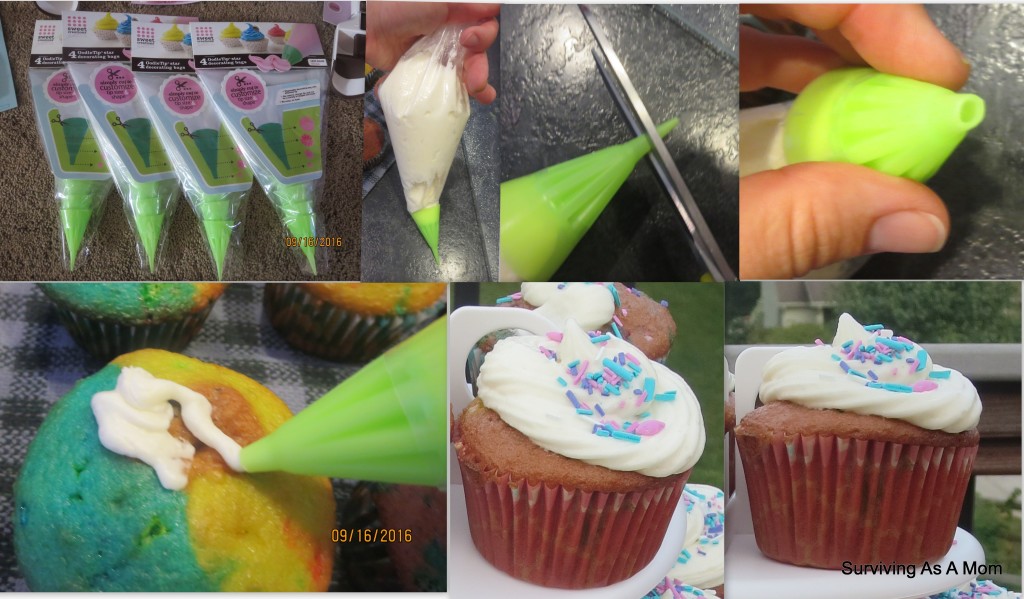 I made a buttercream frosting to compliment the vanilla cupcakes and chocolate chip cookie dough that was in the cupcake.  It was an easy recipe to make.  I had never made buttercream frosting before and was not sure if I would like it.  I didn't color the frosting because I thought the vibrancy of the cupcakes was enough color.  I also had the homemade sprinkles that the kids and I made last week.  I decided to make a star design with the frosting so I cut up about 1/3 of the way on the tip.  I wanted to see if I could frost with a fine tip if I just cut off the end and I could.  I could use these disposable tips and bags two different ways to decorate.    It was an easy way to add some design to the cupcakes without having to make a ton of dirty dishes.  I put sprinkles on each of the cupcakes and when I was out of frosting I could simply toss the bag and did not have to worry about washing any of it.
The Party
I decided to have all the neighbor kids and families over for pizza and cupcakes.  I figured the adults could check out the different Sweet Creations baking tools while the kids enjoyed the pizza and cupcakes.  I had enough batter left to make 6 more cupcakes.  I figured the adults could see how to use the batter scoops, cupcake dividers, and cupcake corers.  Everyone was in agreement that the cupcake scoops were messy.  They were not easy to use and caused quite a bit of dripping.  The adults liked that the cupcake dividers gave something different to the cupcakes and agreed that the cupcake corer was the perfect size to make the cookie dough balls.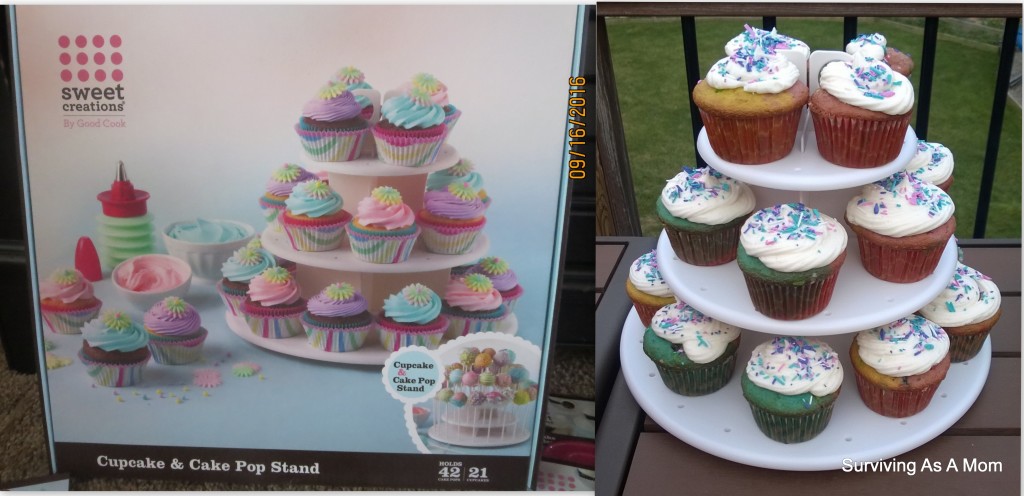 The children loved the cupcakes.  They thought they were getting two treats in one because the cookie dough baked into a chocolate chip cookie inside the vanilla cupcake.  The cupcake stand was a fun way to show off the cupcakes that P and I made.  Everyone enjoyed eating cupcakes and the kids enjoyed getting to decorate the 6 cupcakes that we made at the party.  I was sure to send everyone home with the leftover cupcakes in the cute Sweet Creations cupcake boxes.
Disclaimer: I have never claimed to be any great writer. So any mistakes that are made are my fault. Sometimes I mix up names B, S, and P, but I think you can figure out who I am talking about. If you find any grammatical errors just fix it in your mind so it sounds right.