September 9, 2016
Comments Off

on Top Bloom Kraft Paper Bags Review
Disclaimer:  I received this product for free or highly discounted in exchange for an honest review.  All thoughts and opinions expressed are mine.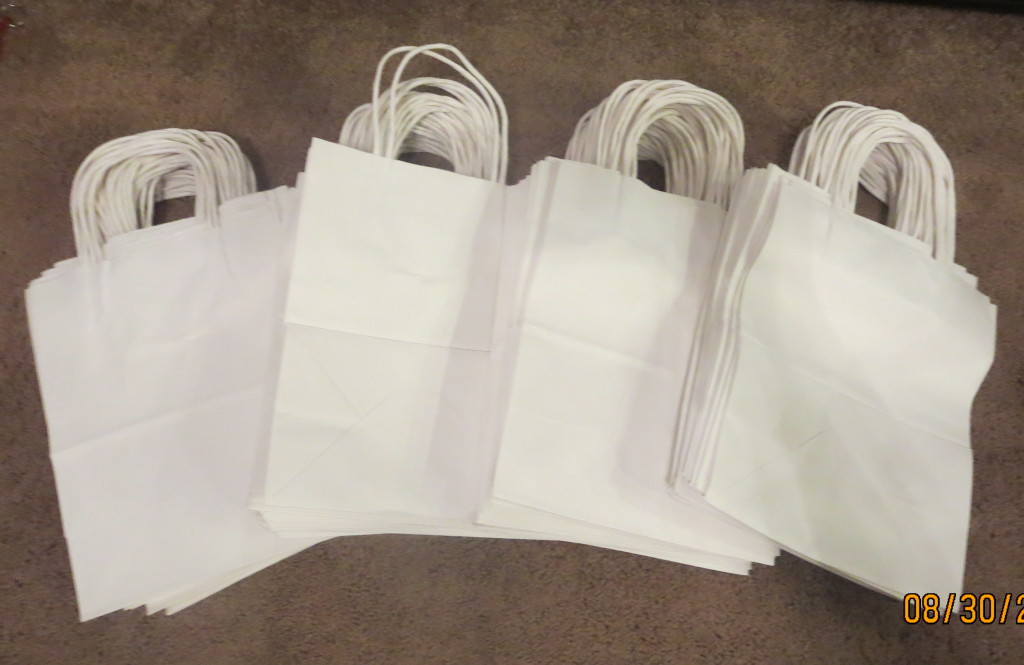 At the beginning of the school year, the sign-up sheets are posted in S's room for volunteering to help throw the holiday parties.  When I saw Valentine's Day I knew that was perfect for these Kraft paper bags.  Every year the kids decorate something to put their Valentine's in and I thought this would be the perfect thing to decorate at the party.  I would be killing to birds with one stone.  The craft would be taken care of and the kids would all have the same thing to put Valentine's in.  No one would have a better decorated shoe box than another.  With these bags being white it really is a blank canvas for the little minds to create.  Because there are so many bags I volunteered to bring enough bags for all four 1st grade classes so all the kids would be doing the exact same craft.
The Top Bloom Kraft Paper Bags are made of 65 lb. paper stock with rugged twisted-twine hands.  Each bag can hold up to 8-10 lbs.  The bags are food grade safety, non-toxic paper bag safe for any food.  Perfect for candy stations.    This set of bags comes in a pack of 110.  No I did not type that wrong instead of being 50 or 100 there are an extra 10 bags for a total of 110.
The Top Bloom Kraft Paper Bags is $34.00 on Amazon.com.  Click here to order the Top Bloom Kraft Paper Bags.  #topbloom
I was chosen to review the Top Bloom Kraft Paper Bags through Tomoson.com.  Basically how it works is you select items you would like to review and if they chose you, the product is purchased through Amazon.com.  If you have a Prime Account with Amazon shipping is free and a coupon code is provided from the company making the product free or highly discounted.  In exchange they are looking for an honest review on their product.
Disclaimer: I have never claimed to be any great writer. So any mistakes that are made are my fault. Sometimes I mix up names B, S, and P, but I think you can figure out who I am talking about. If you find any grammatical errors just fix it in your mind so it sounds right.