May 1, 2013
Comments Off

on Thursday Treats
Thursday Treats is about all of the best things I have had happened in the past week as far as good things, good foods, awesome finds at stores, great TV shows, etc.
This week the weather has been great.  S and I have gone on bike rides every day.  Yesterday I got out the baby pool and filled it up for S.  He played in the pool for over 2 hours straight.  It was so funny to watch he would tell me he is freezing and I asked him if he wanted to get out but he kept saying no.  By the time he got out he was cold, but he sure did have a good time.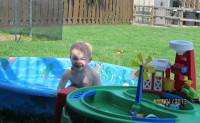 I have loved spending the last few days out in my hammock chair.  It has been so nice to be able to sit and relax while watching S enjoy himself playing.
I got a lot of packages in the mail this week.  Most of them I ordered myself, but I still love getting packages.  I got two new purses from Amazon.com.  Unfortunately, one of the bags had a rip in it, and I had to send it back.  The other bag is super cute.  I also got S a new stop light for him to use outside.  He is begging to open it, but I am sticking to my guns and he is not getting it until he earns enough stars for being good.  S's new Crocs came in today and he was so excited to get his new alligator shoes.  Although he was more happy about getting the Croc shoe box so he could put his cars in his new alligator box.
As I sitting here typing this up, this cute little dog is whining at the screen door to let her in because she is too lazy to go downstairs and come in the dog door.  Man is she cute sitting there.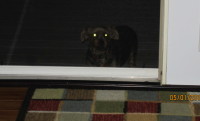 What good things have you been treated to you this week?
Disclaimer: I have never claimed to be any great writer. So any mistakes that are made are my fault. Sometimes I mix up names B, S, and P, but I think you can figure out who I am talking about. If you find any grammatical errors just fix it in your mind so it sounds right.