August 1, 2013
Comments Off

on Thursday Treats
Thursday Treats is about all of the best things I have had happened in the past week as far as good things, good foods, awesome finds at stores, great TV shows, etc.
Wednesday almost turned into a bummer, S started running a fever for no reason.  B came to the rescue and said he would keep S so I could go check out Target clearance toys and I am so glad he did.  That was by far one of the best treats I have had so far this week.  Today may top that it just depends if I find any other good toy clearance.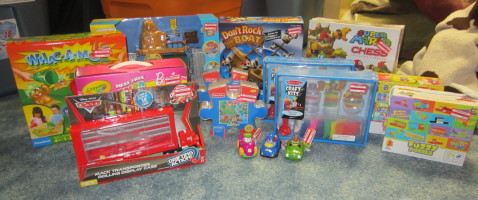 Today is Target day!!!!!!!  Cannot wait to go find more toys!!!!!
S loved canoeing on our camping trip and has not stopped talking about it.
The Rivals II was good last night.  I do enjoy watching that show.
I finally ordered the shoes I have been craving from Target for over two months now.  They finally went on sale.  I cannot wait to get them in the mail.
The weather has been spectacular here in Ohio.  I love not having the air conditioner on.  It is a little muggy and humid, but I love it!
Neezer left me a nice little treat on the floor Wednesday morning.  What is it, you ask?  A little vole dead on the carpet.  Oh, how I hate those little presents that he leaves for me.
What good things have you been treated to you this week?
 Although I do Thursday Treats, it is pretty similar to Jen at Ramblings of a Suburban Mom's Thursday Thoughts, so I am linking up with her today.
Disclaimer: I have never claimed to be any great writer. So any mistakes that are made are my fault. Sometimes I mix up names B, S, and P, but I think you can figure out who I am talking about. If you find any grammatical errors just fix it in your mind so it sounds right.