July 22, 2016
Comments Off

on Themed Party Pack Reviews
Disclaimer:  I received this product for free or highly discounted in exchange for an honest review.  All thoughts and opinions expressed are mine.
While I do not do big parties for the kid's birthday (after they turn 2) I do like to have a theme.  With S I have tried to make the birthday coincide with what he is currently into.  In the past we have done different themes such as: trains, cars, Thomas the Train, Santa, and racing.  When I saw these party supply packs I knew they would be perfect for S and possibly for P on their next birthdays.  Each pack contained mostly the same items just in different themes.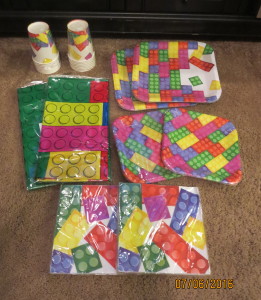 This is perfect for a Lego themed party.  S loves to build with Legos and I think this will make the perfect decorations.  The pack includes: 16 square dinner plates, 16 square dessert plates, 40 lunch napkins, 16- 9 oz. party cups, and 2 tablecovers 54 in x 108 in.  All of the supplies have different colored bricks to include your child's favorite color.  I love how the plates are square instead of the traditional round giving this theme a more updated feel.  The tablecovers are really cute and will work great to cover the table where I will display the cake and presents.  Since I do just small family parties only having enough for 16 guests is perfect.  I need 14 and that leaves 2 left over in the event I need an extra or the dog should snag a plate.  The Brick Standard Party Pack is $29.99 on Amazon.com.  #LegoPartySupplies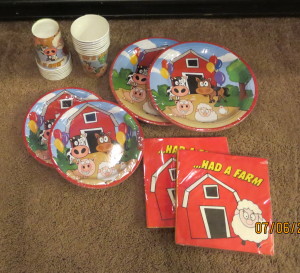 When I had my baby shower for S almost 7 years ago it was farm animal theme to go with my love for pigs.  When I ordered the decorations for the baby shower I also ordered decorations for his first birthday to match.  Unfortunately, I never used them for any birthday for S or P.  I always wanted to have a farm theme party but still have not.  When I was given the opportunity to check this party pack out I knew that P's 3rd birthday would have to be farm themed.  The pack includes: 16 dinner plates, 16 dessert plates, 40 lunch napkins and 16- 9 oz. cups.  The only downfall of this pack was I thought it contained two tablecovers like the other packs did, and it didn't.  The Farm Standard Party Pack is $19.99 on Amazon.com.  #FarmPartySupplies
Mining Fun Standard Party Packs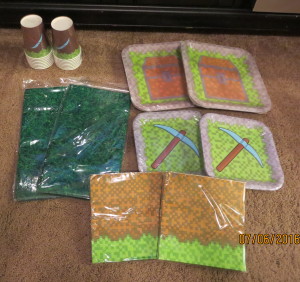 This party pack is perfect for S right at this moment.  He loves everything about Minecraft and this pack just screams Minecraft even though there are no Minecraft logos.  When I showed this pack to S he knew exactly what it was and was so excited.  He loved both sets of plates, the cups, and the napkins.  When I showed him the tablecovers his first response was "That is not what grass looks like on Minecraft."  He was right this was a picture of actual grass and not pixelated cartoon like in Minecraft.  When I asked S about this set he said we could use the plates, napkins, and cups but not the tablecovers because they don't match.  He told me maybe I could use them in the Farm Standard Party Pack and find other tablecovers that match.  The pack included: 16 dinner plates, 16 dessert plates, 40 lunch napkins, 16-9 oz. cups and 2 tablecovers 54 in x 108 in.  I have to admire his honesty.  It really helps when I am reviewing products.  The Mining Fun Standard Party Pack is $33.99 on Amazon.com. #MinecraftPartySupplies
I was chosen to review these party supply packs through Tomoson.com.  Basically how it works is you select items you would like to review and if they chose you, the product is purchased through Amazon.com.  If you have a Prime Account with Amazon shipping is free and a coupon code is provided from the company making the product free or highly discounted.  In exchange they are looking for an honest review on their product.
Disclaimer: I have never claimed to be any great writer. So any mistakes that are made are my fault. Sometimes I mix up names B, S, and P, but I think you can figure out who I am talking about. If you find any grammatical errors just fix it in your mind so it sounds right.