August 4, 2013
Comments Off

on Target Toy Clearance Finds-Round 2
When I woke up Thursday morning I was so excited to start the big day of hunting for toy clearance.  S did not feel very well and I had no idea why, but he went along for the ride and was a really big trooper.  Here is what I got at the first Target of the morning, but my second since I had already went last night.  I spent a total of $7.57.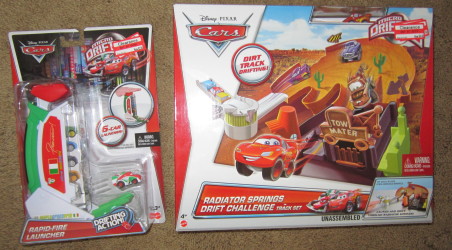 I found the Francesco MicroDrifter Launcher for $2.98, and another MicroDrifter set for only $4.48.  S is getting this from Santa on Christmas Eve.  I already got him one set from 1saleaday.com, but this was so cheap I couldn't pass it up.
That was all I got at this Target.  They had a ton of stuff that I wanted, but this is when the big glitch happened and all of the scanners went down nationwide.  When I asked the markdown girls if they were going to try and do them later they said they were not going to do them until Friday morning.  Okay onto the next store.  I went to another store and nothing was marked down since the scanners were still down, S was not feeling well so we decided to give up and head home.
Disclaimer: I have never claimed to be any great writer. So any mistakes that are made are my fault. Sometimes I mix up names B, S, and P, but I think you can figure out who I am talking about. If you find any grammatical errors just fix it in your mind so it sounds right.