July 31, 2013
Comments Off

on Target Toy Clearance Finds-Round 1
The big toy clearance in July has finally taken place.  I went to my Target tonight (Wednesday night) to check out the clearance and see if they marked the clearance down early.  I talked to one of the people at Target that I know and she said that if they want to get ahead in the markdowns they can mark them down a day early.  I was hoping that they would do that this week to steer clear of the crazy shoppers (like me).
I did two transactions, because I was shopping for others,  In the first transaction I did all of my toys with a total of $73.19.  I forgot to use my $5 off $35 toy purchase coupon that I got as a Catalina last week.  I will get the adjustment when I go back or use it tomorrow.  It wasn't as low as what I thought it was going to be, but I am used to those 90% clearance sale prices.  I got a lot of Christmas gifts done for this year which is awesome and of course I got S more toys that he doesn't really need.  All of the items were 70% off, except the two Legos I got.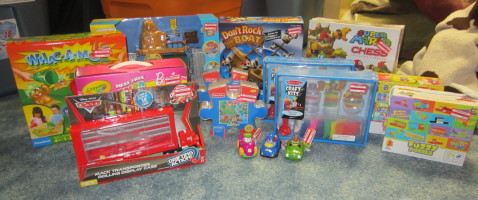 I finally got the Mac truck for the drifter cars for only $4.48.  Guess I am returning the one I bought for $7.48 and save myself $3.  While I am not a fan of superhero stuff, S's loves Wheelies and since these were only $1.16 each how could I pass them up.  Great stocking stuffers.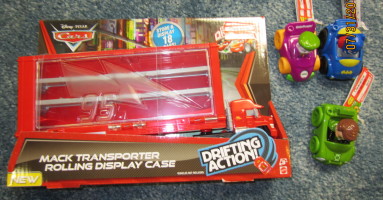 S has been asking to do more puzzles so when I found these I couldn't pass up the price.  The two fuzzy puzzles were $1.78 each and the two Little People puzzles were $1.78 each.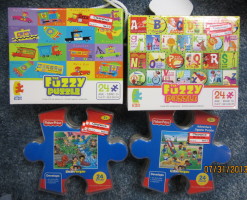 I found these two Melissa and Doug sand art craft kits and thought they would be perfect for my nieces.  It didn't hurt that they were $1.96 each.  The Crayola Barbie art was only $3.88.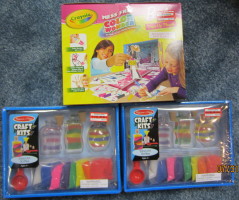 There was a nice selection of games on clearance and I was so happy to see some that S does not have yet.  I got S Don't Rock the Boat for $2.98, and Whac-A-Mole for $7.48.  I found the Super Mario Chess Set for $10.48 for my nephew who loves Mario.  I think he already has a chess set, but not Super Mario!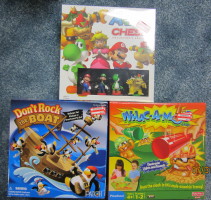 I cannot believe I got S another Take'n'Play Thomas & Friends train set.  I got Thomas' Treasure Hunt Adventure for only $8.08.  If only I could find the Thomas Pirate Ship it would be awesome.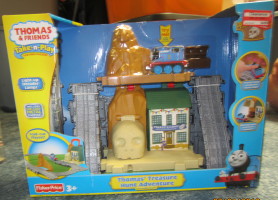 I was able to find a few Legos for S's 'Da Boyz' (as he calls them, really our neighbors).  I found a Marvel Super Heroes Avengers for $6.48 and Monster Fighters for $3.48; they were only 50% off the regular price.  I loved the idea of a Lego game, so I also got this for the boys, The Hobbit was only $10.48, 70% off regular price.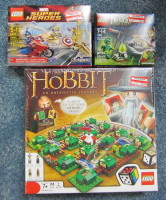 In the second transaction I spent $49.22.  The reason it was so much for just the few items is because the Legos were only 50% off.  That is a great price for the Legos and they rarely ever go 70% (because they are all sold by then).  I forgot a few items in the overall picture, so there are more than four items.  NO worries!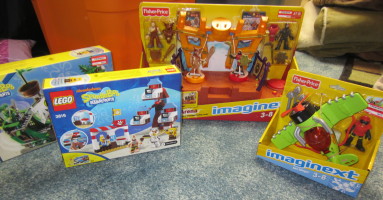 I got the SpongeBob Legos for $12.48 and $9.98.  50% off the regular price.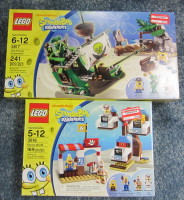 The Fisher Price Imaginext was a huge hit with B's cousins little ones and they wanted more so there aunt will be giving them these (and more if I can find them tomorrow).  The Battle Arena was $8.98, and the Sea Stinger was $3.77.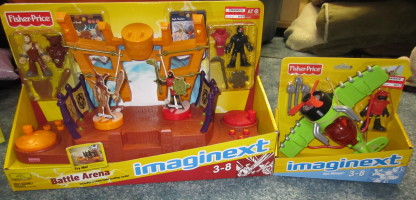 Pony Royale horses were cute and the hair can be changed out (a little creepy if you ask me).  I got them for $4.48 each.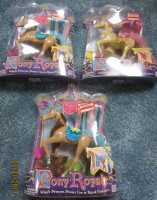 I was so happy with my finds at this store, so I thought I would try another Target and see if they marked their toys down, too.  Unfortunately, it was a bust, and none of the toys were marked down.  At least I know that the other stores should have their toys marked down tomorrow and I will make an early start to find more toys at other Targets.  This is only Round 1 of 4.  Stay tuned for the other 3 rounds and I will post them after I hit the other Targets.
Disclaimer: I have never claimed to be any great writer. So any mistakes that are made are my fault. Sometimes I mix up names B, S, and P, but I think you can figure out who I am talking about. If you find any grammatical errors just fix it in your mind so it sounds right.