September 27, 2013
Comments Off

on Target Clearance Finds
I decided to venture out with S and Baby A and try to go to Target.  I was not sure how it was going to work.  Baby A hates his carrier, and screams the entire time.  I convinced S that he could sit in the cart and I would carry Baby A in the Baby Bjorn.  S finally agreed to go, and I was able to time it just right that Baby A fell asleep on the way to Target and I took him in his carrier inside.  I knew we were going to have to make this a fast trip.  I spent just over $50, and was very happy with that.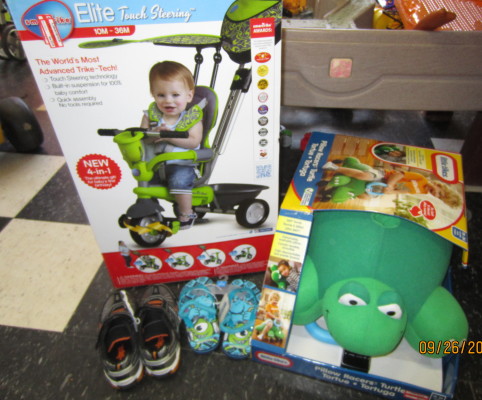 I have been watching this Stroller Trike since I saw it went on clearance.  We have one for S and love it.  We still use it.  I told my neighbor about it and she said keep an eye on it if it goes 70% get it for Baby A.  No problem there I love to spend other people's money and do something I love at the same time.  So I got the Stroller Trike for only $29.98.  When we bought S's we paid like $52, and that was after discounts and giftcards.  This was a great deal!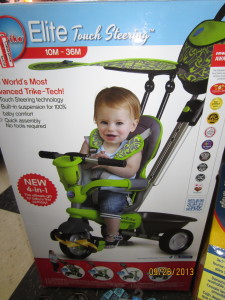 While back in toys I found a Turtle Racer like S has and this time I text my neighbor and asked.  She said go for it.  So I got the turtle for $11.98, same price I paid for S's last year.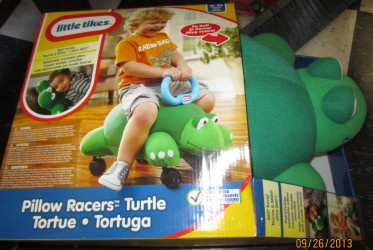 I was finally able to get some shoes for S at 70% off.  I like to buy ahead and get bigger sizes so if for some reason we wake up one day and he no longer fits in his shoes I have some in the next size to replace them.  The shoes are an 11 and he is currently in an 8 almost 9.  They light up and were only $5.98.  These will be perfect for play shoes in the sand and mud!  I love the Monster Inc. sandals and just happen to find them in the next size for S 9/10.  They were only $2.48 and S loved them so much he had to try them on right away.  I really wanted the Crocs (they are made by Crocs but the lower brand and cost), but could not find them in the next size for S.  I like to have a play pair and a nice pair of those too, for the summer.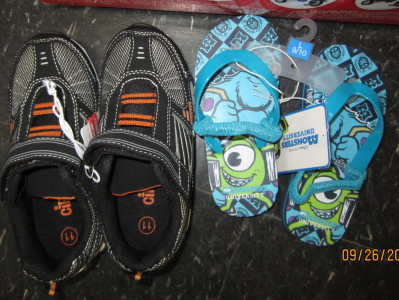 Overall, I am happy with my finds and think I am going to try again to take both of the boys to Target.  B will be off so maybe it will just be me and Baby A.
Disclaimer: I have never claimed to be any great writer. So any mistakes that are made are my fault. Sometimes I mix up names B, S, and P, but I think you can figure out who I am talking about. If you find any grammatical errors just fix it in your mind so it sounds right.