September 22, 2013
Comments Off

on Target Clearance Finds
When I went to Target on Friday I saw that almost all of the Build It Collection in kids bedding had gone 70% off.  There was nothing left at our store but I was itching to go to the others and see if I could find some.  So I went to the Target that I think is the least busy and don't you know that they did not mark any of the Build It Collection down.  Oh well, since I was there I mine as well look around the store and see if I can find anything.  I did find a few things and spent $15.55.  Since I found my Target card in my purse I got the extra 5% off.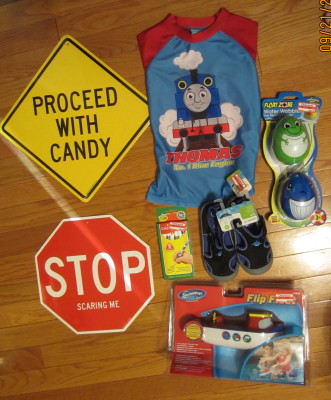 The signs were not on clearance but since S loves street signs I thought since they were only a $1 each this would be a nice little find.  The signs are Halloween themed, but one side of each was okay, the other side a little to gory for a 3 year old.
I found a few more swim items that I just could not pass up.  S loves these little bobbing toys and we usually use them to play water basketball with.  They were only $1.78.  The little boat is cute and somehow it turns into a whale which S will just love.  It was only $2.24.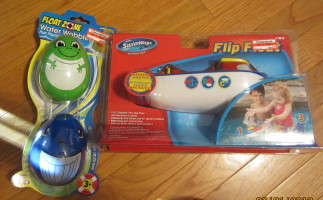 I found a Thomas swim shirt that matches the swim trunks I got S and plan on giving him for Easter next year.  While I don't love character themed items like this, S totally does and he is the one who has to wear them.  The swim shirt was only $3.  I go S a pair of swim shoes that I am hoping will last him for the next two years.  They are a 9-10 and he currently wears an 8.  The shoes were only $5.24.  The last item I got was some Crayola colored pencils for only $1.04.  They are triangular and are suppose to help teach the correct way to hold a pencil.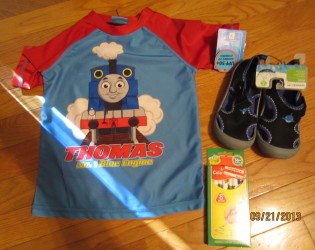 Disclaimer: I have never claimed to be any great writer. So any mistakes that are made are my fault. Sometimes I mix up names B, S, and P, but I think you can figure out who I am talking about. If you find any grammatical errors just fix it in your mind so it sounds right.