July 16, 2013
Comments Off

on Target Clearance Finds
My Target trip last Thursday was a hit.  I was able to find quite an array of items.  I knocked out four Christmas gifts, finished a baby shower gift, and got Christmas gifts for S from Santa on Christmas Eve.  I spent a total of $60.41.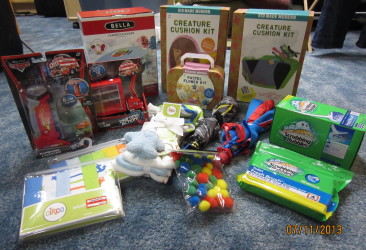 The few regular priced items I got were some Scrubbing Bubbles toilet cleaners for $3.99 each and a $1.00 coupon on each so $2.99 each.  I also got a bag of mixed pom-poms from the dollar spot for $1.00 to be able to top off the washcloth cupcakes I am making for the baby shower gifts.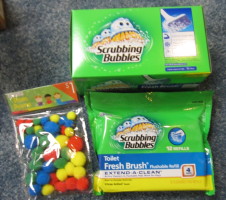 I was going to get these on Sunday and decided against it then, but thought it was a good idea now since two of B's cousins are pregnant and sisters so each gets the exact same gift from me.  (The toys may differ, but same idea in both.)  I got the washcloths for $3.70 each, the pack of 3-pack washcloths and shark for $3.35, and towel to match for $3.42.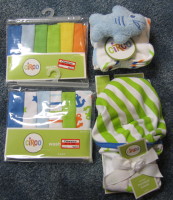 For my two nieces I found these kits where they basically learn to sew to create these animal pillows.  I love the idea of it teaching them how to sew, and while they may not appreciate it on Christmas Eve they will a few days later.  I also got them this Pastel Flower Kit that they can make jewelry with.  Each kit was only $3.88 and I had a $2.00 coupon if I spent $10.00 on Kid Made Modern Crafts.
For S's cousins I found these umbrellas and love the idea of giving them an umbrella for Christmas.  We only get them a small gift each so this is perfect, and at $3.98 each that is awesome.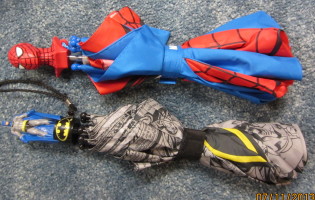 I have been waiting for these to go on clearance, and while I normally wouldn't buy them until they are 70% off, we really need them.  We already got S the Cars Drifter playset, so we needed something to hold all of these tiny cars and then this launcher was perfect for S to help him make the cars go faster.  The launcher was only 30% off at $6.98, and the Mac Truck storage case was 50% of at $7.48.  If I didn't get them now I was afraid they would be gone when they went cheaper.  If they do go cheaper I will get them and return these since I paid more for them.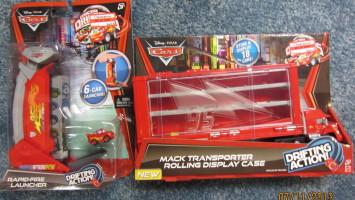 I have been watching this cake maker and like the idea of them being popsicle shaped cakes.  I also think it is cheaper to buy popsicle sticks for these then sucker sticks for cake pops.  As long as I do not have to use a special cake mix and can use my regular cake box mix I will be keeping this, especially since I only paid $5.98 for it.  If it requires special cake mix, back to Target it goes.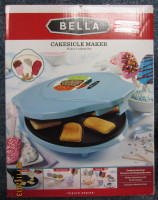 Disclaimer: I have never claimed to be any great writer. So any mistakes that are made are my fault. Sometimes I mix up names B, S, and P, but I think you can figure out who I am talking about. If you find any grammatical errors just fix it in your mind so it sounds right.