November 7, 2013
Comments Off

on Target 90% Halloween Clearance Finds-Store #2
This was the store where I hit the mother load.  The signs still said 70%/50% so there were not many people looking at the Halloween clearance.  The Halloween clearance was also a huge mess so it took some serious digging to find the good stuff.  I was also able to find some great finds in the toddler/baby and boys clothing.  Apparently, this Target had not pulled all of the Halloween clearance to move with the rest of the clearance.  With some digging I got some really good stuff.  I spent $18.03 and found so many good things.  If I could have found the Hello Kitty shirt at this store I would not have gone to anymore Targets.
I got the bats and rats for $.10 each.  The bats are going to be great in little goodie bags for S's preschool classmates next year.  I also found skull erasers for $.10 and these cute goodie bags for $.49 each.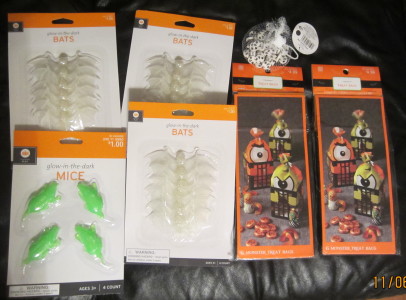 These were all crafts that I got so that I can do them next year with S.  I would much rather do a spooky foam mansion than one made out of gingerbread and frosting.  The mansion was only $1.50.  The tape was $.50 and each little foam pumpkin was only $.20.  I got a bat pumpkin decorating kit for $.50 and the two little pumpkins to decorate as an owl and bat for only $.50 each.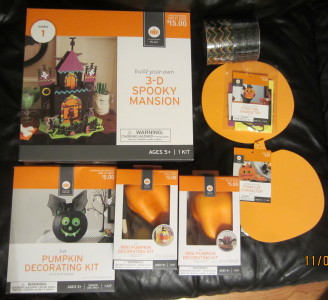 I found this Cinderella pumpkin kit for only $.70.  I thought my niece may like it to decorate her pumpkin with next year.  I also like the 2 Muppets stuffed animals and they were only $.49 each.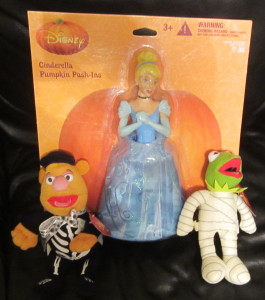 Some day S will have a pirate birthday party and I have been collecting stuff for it.  I got the two dogs pirate hats and a make your own pirate hat for S.  The dog hats were only $.40 each and S's hat was $.50.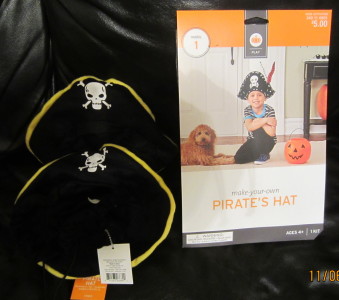 I found these two cute one-piece fleeces mixed in with the regular baby clothes.  The Newborn outfit is for my niece for her baby dolls and the other outfit is for B's cousin for next year.  They were only $.89 each.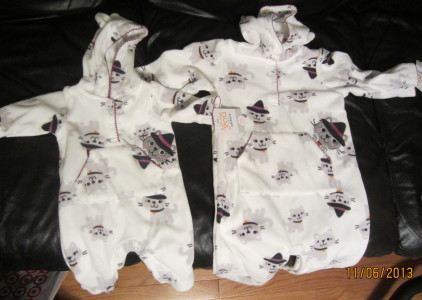 I found these Halloween shirts and I could not pass them up.  They were all only $.90 each.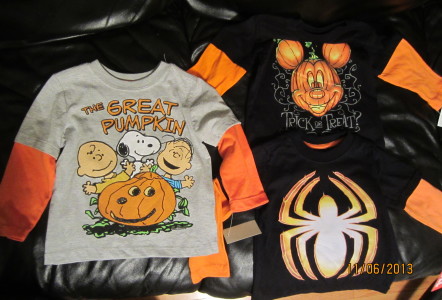 I found a toddler shirt for S next year for only $.90 and the three boys shirts are for S and one for me.  They were only $.90 each.  I found this Hello Kitty Halloween skirt in the perfect size for S's cousin for her birthday next year.  I only needed to find the shirts to match.  The skirt was $1.40.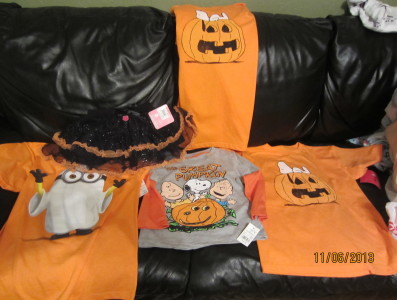 Just so I could show you the complete outfit at the next Target I found two Hello Kitty shirts that match the skirt.  Isn't this the cutest outfit ever.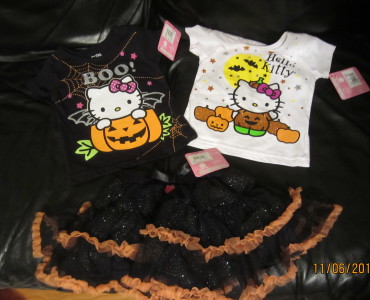 Disclaimer: I have never claimed to be any great writer. So any mistakes that are made are my fault. Sometimes I mix up names B, S, and P, but I think you can figure out who I am talking about. If you find any grammatical errors just fix it in your mind so it sounds right.