January 8, 2017
Comments Off

on Target 90% Christmas Clearance 2016 Finds-Round 1 of 4
Well I have to say I know this is a few days later than normal, but it has been a crazy week.  P is still coughing up a storm and waking herself up early.  I attempted to start potty training with P and that did not go so well.  I have finally gotten around to posting about my awesome clearance finds.
I hauled both kids to the Perrysburg Target on Monday and sadly the Christmas clearance was still 70% off.  Ugh pure and utter disgust.  So the kids and I went home.  After a few hours around 11am I found on Facebook that the Airport Hwy store had gone 90%.  Now I know at this point all the good hidden clearance is gone but maybe I can find a few things that I don't really need but would like to get.  I found a ton of stuff at the Airport Hwy Target and spent only $69.37.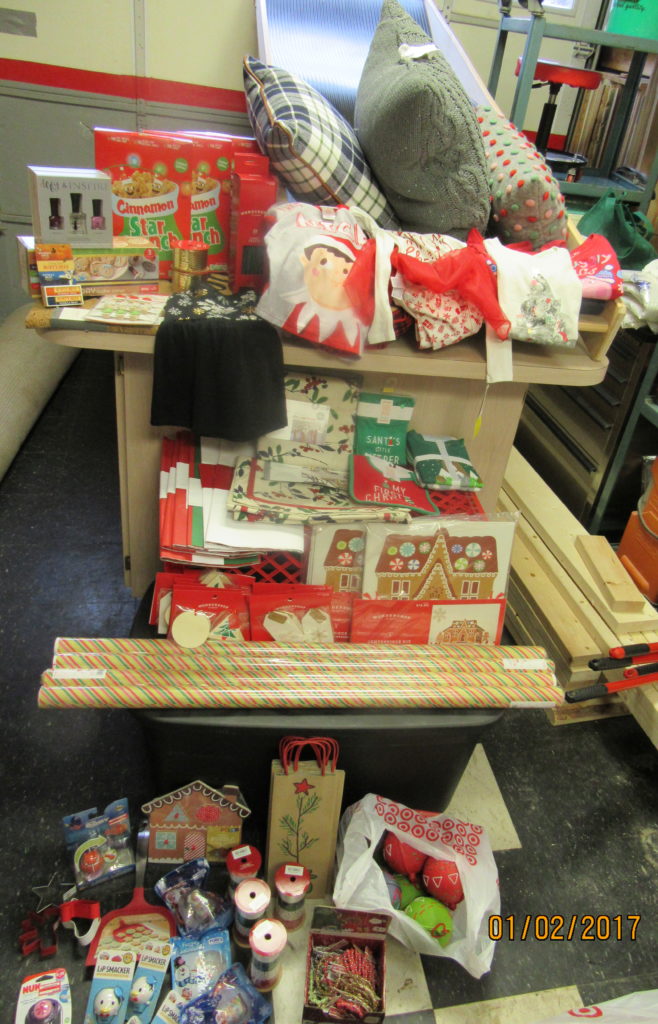 So let's break this down from the bottom up in the picture, and left to right.
P loves the binky that looks like Nemo since they were on clearance I snagged the only one I could find for $3.48.  I managed to find 4 Donald Duck Tsum Tsum lip glosses for $1.49 each (last year they were 90% off but beauty only went down to 70% this year).
I got 4 of the Christmas character finger puppets for $.39 each, and 60 bracelets for only $.10 each.  Those are going to make nice little goody bags for S's classmates.
I got a few cookie cutters for $.09 each to replace some of my more used cutters.  The spatula is going to be perfect to get cookies off the pan.  The front of it is super thing to get under the cookie.  It was only $.59.  The Nemo egg was $1.48.  I added that to P's potty prize box.  She is on a Nemo and Dory kick at the moment so she has been eyeing this every time she walks past it.  The house puzzle was $.30 and I also added that to the potty prize box.
The ribbon is super cute and was only $.20 each.  The gift bags were $.15 each.  I love that they look like the Charlie Brown Tree.  I got ornaments that were made out of cardboard egg crate material for $.30 each.  I am planning on putting them on our tree next year.  I just don't see P not being crazy next year.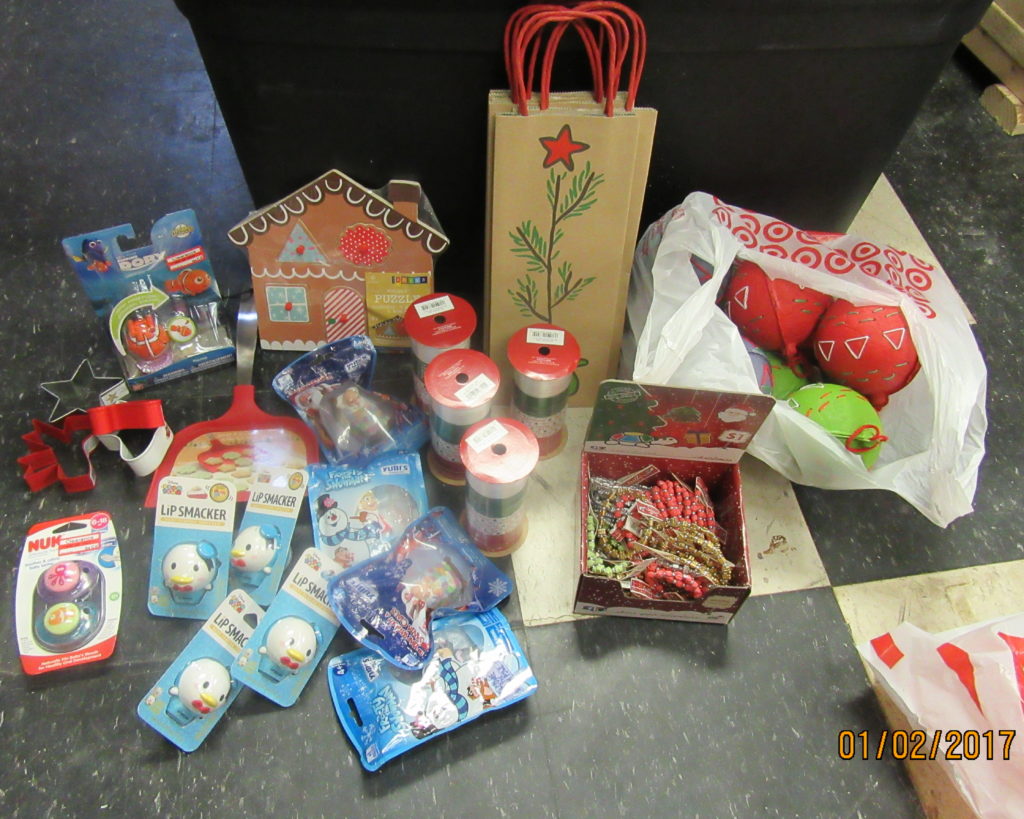 I got 4 rolls of paper for $.25 each.  This is going to work awesome for birthday presents.
I got gift tags that the kids can personalize next year that can be used for ornaments.  It was a 4-pack for $.40.
I also got two cardboard gingerbread houses for $1 so each kid can make there own.
The colored tissue paper was $.30 per pack and I got 6.
I got a table cloth and table runner that can be used for all year.  They match the kitchen/dining room perfectly.  The runner will go on the table daily and the table cloth will be put on to stop the kids from damaging the table when they do projects.  The runner was $1.69 and the table cloth was $1.79.
I found a few baby items for $.39 and $.59.  I found one pair of pajamas for P that were only $.79.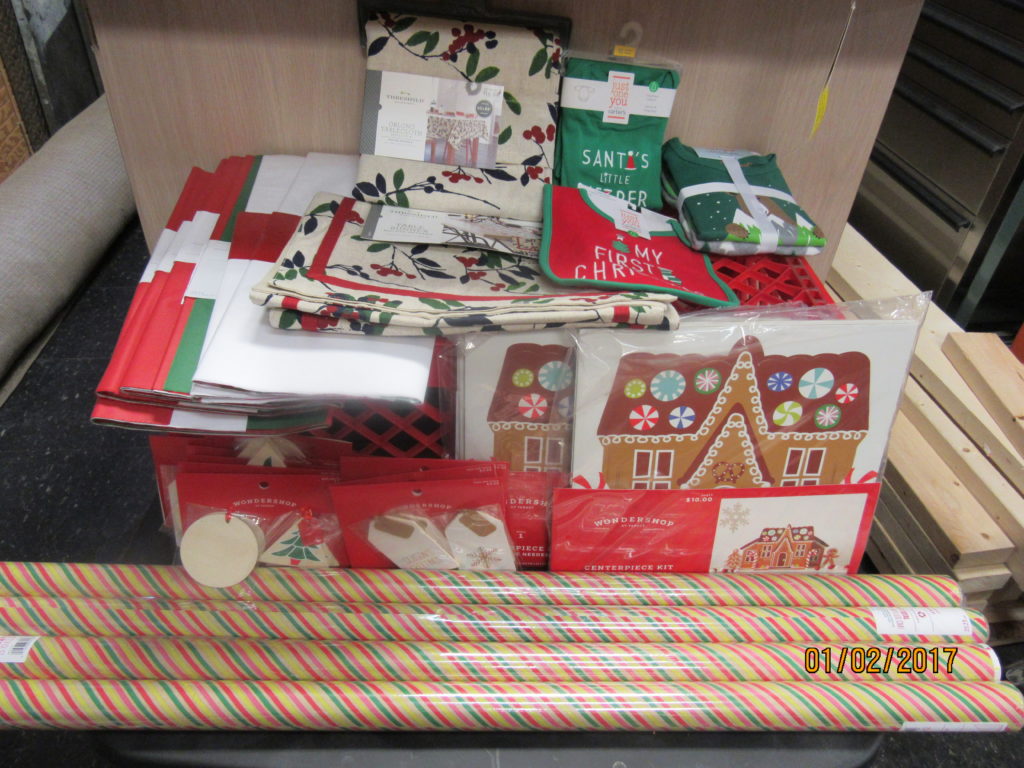 I found the fingernail polish for $2.99.  I got a set for P and a set for my niece.
The two pack of Burt's Bees was $1.73.
I also found a cookie press for $1.99 (I originally bought it for $5.99 so I took back the $5.99 one).
The clothespins are for cards for only $.50.
The kids love Cinnamon Toast Crunch and I found 3 boxes Cinnamon Star Crunch for only $.89 each.
The gold ribbon was $.30 each.  There are two boxes of light stakes for $.29 each.
I got another snowflake dress this time for Baby L.  It was only $1.19.  The Elf jammies were $1.69, the Carter 3-piece jammies were $1.29.  I finally found the kitty tree shirt in the next size for P and it was only $.79.  I found two Peppa shirts for $.99 each.  These shirts are just winter themed so she can wear them for quite a while.
I found three pillow.  The plaid pillow was $2.49, the gray $2.99, and the polka dot $1.99.  The plaid pillow will match my room with a new duvet cover we got, and the gray pillow is in the living room along with the polka dot pillow.
Under the cereal is a doormat that I got for $1.29.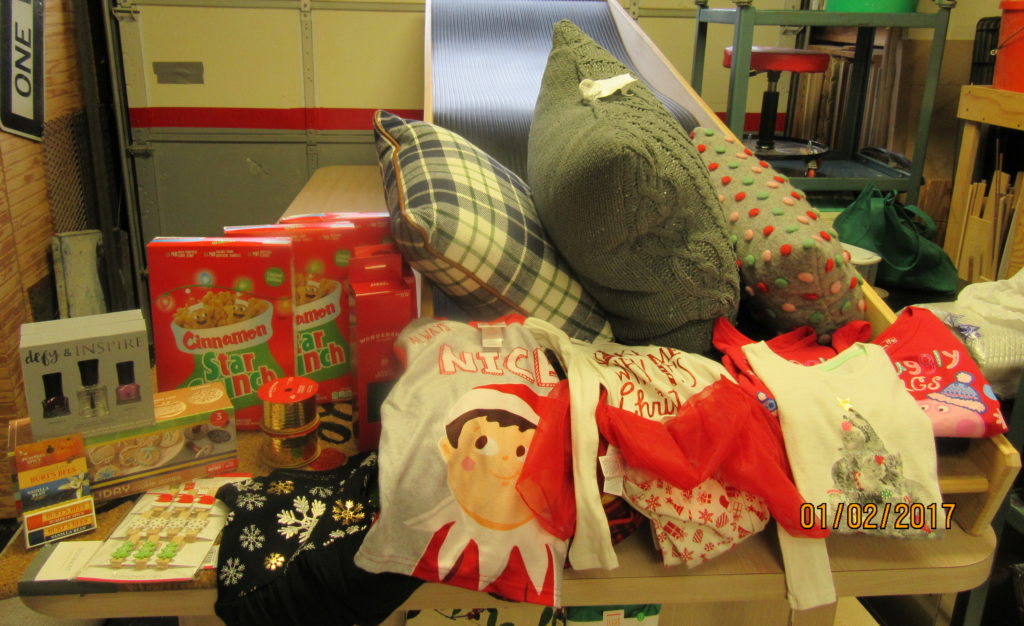 On the bottom of the receipt it shows that I saved $449.69.
Disclaimer: I have never claimed to be any great writer. So any mistakes that are made are my fault. Sometimes I mix up names B, S, and P, but I think you can figure out who I am talking about. If you find any grammatical errors just fix it in your mind so it sounds right.