April 4, 2013
Comments Off

on Target 70% off clearance finds
I did pretty well today at Target finding the 70% clearance Easter items.  I spent $31.20, and saved $42.62.  Below is a breakdown of what I found.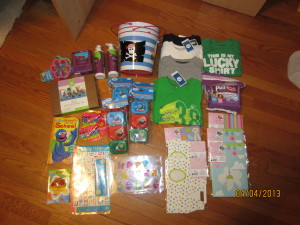 In this picture is a Sesame Street book, a Sesame Street binky (S had to have it, and we get home he tries it and says it broken), 2 Jelly Belly lipglosses, and a set of flower cookie cutters.  All of the items were $.30 each.
There are rub-on letters, and gel Easter window clings.  S loves these window clings, but one use in our house and they are gross with the dog hair.  Both items were $.30 each.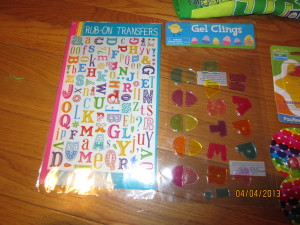 Four packs of Thomas and Friends containers.  They were $.75 each.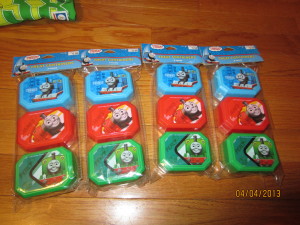 These are cupcake/cookie boxes and gable boxes.  Each package is one box and all of them except one are spring/flower themed.  I did pick one that was Easter themed.  They were all $.30 each (six total).  These will be great for Sawyer to take baked goods to neighbors or for me to use in baby shower gifts.  I love to use these boxes and take baby washclothes and wrap them up so they look like cupcakes.  It is really cute and crafty.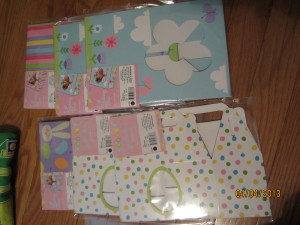 Here are three pirate metal buckets and a pirate egg decorating kit.  I picked up a few pirate items at Valentine's day for 90% off and have decided that at some point Sawyer will have a pirate birthday party.  I figured once he gets into school.  The metal buckets were $1.50 each and the egg decorating kit was $1.50.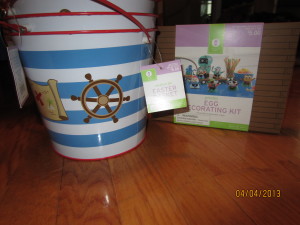 I so did not want to get this but S was adamant about getting this egg scooper since he was obsessed with his grippers to get eggs on Easter.  This was only 50% off because it had an egg in its mouth with jelly beans.  It was $1.99.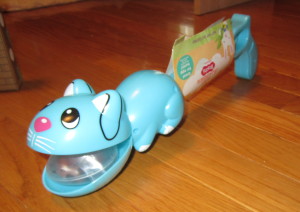 Although these shirts were not Easter I did find them all for 70% clearance.  I got one St. Patty's Day Lucky Charm shirt (in toddlers) and four shirts in little boys (yes, I am starting to buy in little boys for next year and the year after how sad my little one is growing up).  The toddler shirt was $2.40, the plain little boys shirt was $1.04 and the three graphic little boys shirts were $2.70 each.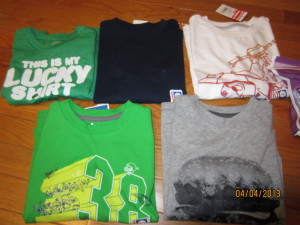 No I am not going through menopause, but with coupons these were free.  I got two Poise feminine washes and one Poise cooling wipes.  They were each $2.99, and with three $3.00 coupons I got them for free minus tax.  Unless someone in my family claims these, they will be put in the donation box for the local breadbasket donations.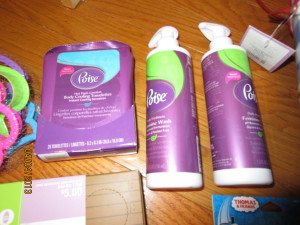 Last is Pull-Up flushable wipes.  I am kind of a snob when it comes to wipes and diapers.  I only have used Huggies wipes and Pampers diapers.  So when S got potty trained and I needed flushable wipes I moved up to the Pull Up wipes (also made by Huggies if you didn't figure that out).  They were on clearance because they have new graphics on there packages coming out.  The wipes were 15% off at $3.98.  Not a great deal, but better than full price.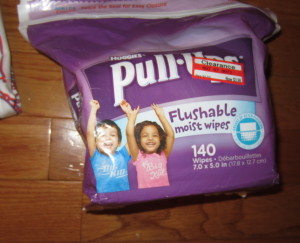 What great finds did you find at Target this week?  I searched but could not find any hidden toys clearance Easter toys in the regular toy section, have you?
Disclaimer: I have never claimed to be any great writer. So any mistakes that are made are my fault. Sometimes I mix up names B, S, and P, but I think you can figure out who I am talking about. If you find any grammatical errors just fix it in your mind so it sounds right.