November 4, 2013
Comments Off

on Target 70% Halloween Clearance Finds
I went to Target yesterday to check out what was left of the Halloween clearance.  I didn't think it would go to 70% until yesterday, but it went Saturday.  I am writing this post and then heading out to Target to see if they marked down the Halloween to 90%.  No worries I will post about that as soon as I know.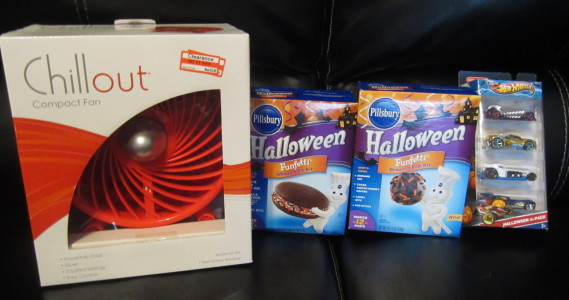 I only got a few things yesterday, because really I don't need anything and since there was no need I didn't want to pay a lot for anything.  I spent $8.64 on these four items.  B went with me and wanted the fan since it was 70% off clearance I was okay with that and it was only $5.08.  The two Pillsbury kits were 50% off each so they were $1.79 and $1.49 with another $1 off of those prices because I had a Target coupon.  I was able to find one Halloween pack of Hot Wheels mixed in with the regular Hot Wheel packs and got it for only $1.49.  It was super easy to spot because the regular Hot Wheel packs are 5-packs, and since this was a 4-pack it stuck out like a sore thumb.
I really refrained from getting more, because I knew I didn't need any of it and could wait till it went 90% and then I can justify getting it to myself.
Disclaimer: I have never claimed to be any great writer. So any mistakes that are made are my fault. Sometimes I mix up names B, S, and P, but I think you can figure out who I am talking about. If you find any grammatical errors just fix it in your mind so it sounds right.