July 21, 2013
Comments Off

on Target 70% Clearance Finds
I have been waiting for the summer clearance to go 70% off, and today if finally did.  While I had planned on going to all 4 Targets in my area, I reconsidered and only went to the one a few miles away.  Believe it or not I had more in my cart and decided not to get the items, because do I really need them?  Nope so if they are there at 90% I will get them if not it wasn't meant to be.  Here are the few items I did pick up.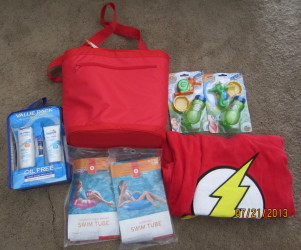 I have been trying to phase S out of baby towels and to start using regular towels.  He wants none of that and wants hooded towels.  Even though I am not a superhero fan and S has no idea what they are, he liked the towel because it had lightning on it.  It was a good deal for only $4.49.  I am hoping to possibly find more when it goes 90%.  If not I am happy with my one find.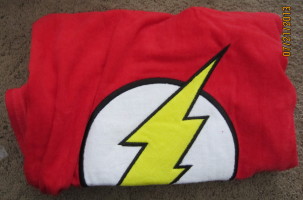 Yesterday when I came to scope out the summer clearance and see if it went 70% (it did not) I found Coppertone sunblock Pure & Simple on clearance (I will post that next).  So today I was ready with my coupons and found this Coppertone on clearance for $4.19, and with my $2 coupon I got all of this for only $2.19.  What a great deal, and I look forward to trying this.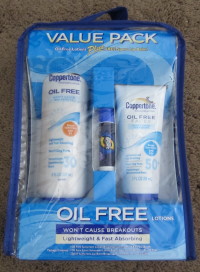 S has been totally into the commercials for the movie Turbo, so when I found these whistle bubble blowers and one was a snail I knew he would love it.  I got the snail and seahorse for $.89 each.  I told S that the seahorse was Turbo's best friend and F (S's cousin) could play with the seahorse when she comes over.  He loved the idea of them both having one.  If they are still there at 90% I am buying all of them.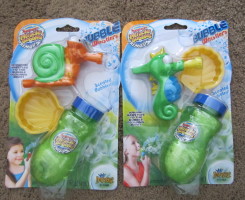 I got B this new soft cooler because he still uses a little 6-pack cooler that we got on our honeymoon (almost 10 years ago).  It is pretty sad looking and this can hold 12 cans which is a better fit for the water bottles, etc.  It was only $3.89.  They had a ton of them there, but I went with the plain red instead of stripes or stars for B.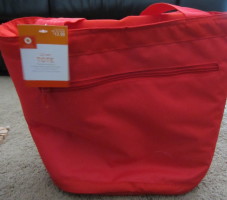 My neighbor asked me to keep an eye out for clearance inflatable floating things for the pool.  While these were mixed in with the regular swim stuff they were 70% off and $1.19 each.  I could have got more, but was not sure if she wanted rafts more than tubes.  So for now I only got 2.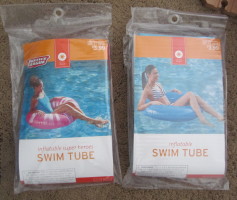 Not a bad little shopping trip for a Sunday morning.  I plan on getting more when the clearance goes 90%.  I don't really need anything so if I don't make it I will be bummed, but there is nothing I am missing.  If the summer clearance goes on Tuesday, it is going to make for an interesting morning.  We will go to our Target before storytime and then have to run to the rest after storytime.  Maybe we will get up early and go to all of them or maybe I can talk B into taking S to storytime.  Who knows?  Wednesday works out better for me if it went 90% then, but one more day for it to get picked over.
Disclaimer: I have never claimed to be any great writer. So any mistakes that are made are my fault. Sometimes I mix up names B, S, and P, but I think you can figure out who I am talking about. If you find any grammatical errors just fix it in your mind so it sounds right.