January 21, 2016
Comments Off

on Suuchi Custom Made Shift Dress with Pocket and V-Neck Review
Disclaimer: I received this product for free or highly discounted in exchange for an honest review. All thoughts and opinions expressed are mine.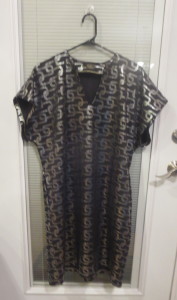 I was beyond excited about getting a dress that was going to be custom made for me. To finally have a dress that is supposed to fit me to a T was something I have always wanted. Suuchi is a company where you can chose one of the dress sizes they provide or provide your own custom measurements and they will create a dress for you. They actually will cut patterns out according to the measurements you give them. To figure out how to give correct measurements there is a small tutorial video for each size measurement required.
I was asked to review the Shift Dress with Pocket and V-neck. The dress is described as 'easy to slip-on, sexy and fun! Wear over leggings or on its own with a belt and blazer.' There looks to be 69 different patterns/materials that you can select from when creating the dress you want. I wasn't very good or clear about how to order the dress when I did. I chose the Black and Silver Chain Stretch pattern. I thought I could wear it with gray leggings or some black and silver shoes.
I watched the videos on how to give the correct measurements for a custom dress. I did all the measurements, ordered the dress, and waited for it to come in the mail. The dress retails for $70. I got the dress in the mail later in the week and it came with its own hand-written personal note. I opened the tissue wrapping to check out the dress and could not believe what I was looking at.
The dress was huge. If they were using my measurements how did I get a dress that was shaped like a potato sack? I measured this dress and thought the measurements were way off. Here are just a few measurement comparisons:
Arm Hole-Mine-17" Dress 20"
It seemed way off and the dress was huge. The arm holes were so big they hung down to the point where you could see my bra if my arm was straight out. Every part of the body of the dress what huge. No way could I wear this dress out in public and feel good in it. The pattern was not what I expected either. That is my fault because I ordered it. It was a very busy pattern and not very flattering to the eye. My sister said it reminded her of the smock you wear when you get your hair done. I would have to agree.
I contacted the company to let them know of my dissatisfaction before I wrote this review. They checked the patterns they had for me and said the dress was made correctly but would be more than happy to remake the dress for me or let me order a different style of dress. I told them I appreciated the effort and would note it in my review but a new dress was not necessary. Here is the dialogue:
I wanted to contact you and let you know about how the dress fit. I guess I am not sure how it exactly is supposed to fit, but I could literally put two of me in it. I did the custom dress sizing, watched all the movies on how to take your own sizes, and entered them. For example I put my waist as 34″ and when I measured the dress it is 22″ wide (44″ around) at the waist. My arm hole was 14″ and it measures at 10″ wide (20″ around). It seems to be extremely oversized and think that my sister who it a size 16-18 would fit better in it. I wear a 6. How long is the dress supposed to be? It hits about 2″ below my knee.I would like it if you could help me with some of these questions before I do my review on the dress.
Thank you,
Stephanie
From: Suuchi01/05/2016 11:03 AM
Stephanie,Hello there – I am Suuchi, founder of Suuchi Inc. Thank you so much for your cheering so far, it has meant the world to my team, and to me.I wanted to address the fit concern directly, your fit satisfaction is top priority. Now this style we made you is supposed to be a loose, kimono style fit that sits a little above the knee. It seems though that it came out looser and longer than intended. I did take a look at the pattern we made you, and so far as the fitting science for this style, we seemed OK. But all that said, if it seems off we didn't do our job right. So we can do this one of 2 ways. I could re-make the same style in a smaller, shorter grade but it would still be loose because that's the style (though not as loose as your present piece). Or, we just make you a different style if fitted styles are more your preference. Our wrap dress is a hot favorite, it's a more expensive item but I want to do what it takes to make this a happy experience for you. Did you like the fabric. black and silver chain stretch? Once we hear back from you we'll get started right away making our new piece. Thank you for your feedback
Much love
Suuchi
From: Suuchi01/06/2016 10:12 AM
Hi Stephanie,I was wondering if you had a chance to check this message. Want to make sure we do what it takes to convert this for you. Just let me know
Thanks
Suuchi
After reading your comments, and having my sister look at the way the dress fits me, she said it is probably right. So there is no need to remake me a dress. I guess, I didn't realize how loose the dress was supposed to fit. To me it didn't look that large on the model. I am okay with the dress and will be sure to include in my review how helpful you were with my questions and fit issues.
Stephanie
The Suuchi Custom Made Shift Dress with Pocket and VNeck is $70.00 on Suuchi.com. Click here to purchase a Succhi Custom Made Dress. #suuchi
I was chosen to review the Suuchi Custom Made Shift Dress with Pocket and VNeck through Tomoson.com. Basically how it works is you select items you would like to review and if they chose you, the product is purchased through Amazon.com. If you have a Prime Account with Amazon shipping is free and a coupon code is provided from the company making the product free or highly discounted. In exchange they are looking for an honest review on their product.
Disclaimer: I have never claimed to be any great writer. So any mistakes that are made are my fault. Sometimes I mix up names B, S, and P, but I think you can figure out who I am talking about. If you find any grammatical errors just fix it in your mind so it sounds right.