November 27, 2013
Comments Off

on So What Wednesday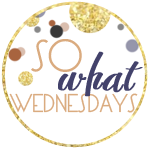 Today I am linking up with Life After I Dew for So What Wednesday.
Today I am saying so what if….
We had to take S to Toys R Us to try and find more items to put on his Christmas wish list because he didn't have enough items for everyone to buy his stuff.
S has to be bribed with rewards to try new foods.  He is about to turn 4 and finally ate his first hamburger (turkey burger).  He used to like turkey meat when he was really little 1ish, but stopped eating it.  He said he really liked his 'little burger.'
I can't figure out what is going on with Yolanda's hair on RHOBH.  She always combs her hair back when it is down.  It is to try and cover-up hair extensions or did something happen to her hair because she got Lyme disease?
I still have no idea what or if we are going to shop for items on Thanksgiving/Black Friday.
There are a stack of dishes sitting next to the sink that need to be washed after cooking all the pumpkins to freeze for S's smoothies.
What are you saying 'So What?' to this week?
Disclaimer: I have never claimed to be any great writer. So any mistakes that are made are my fault. Sometimes I mix up names B, S, and P, but I think you can figure out who I am talking about. If you find any grammatical errors just fix it in your mind so it sounds right.