September 4, 2013
Comments Off

on So What Wednesday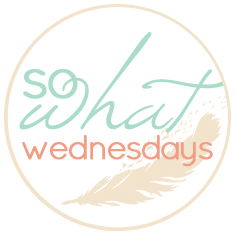 Today I am linking up with Life After I Dew for So What Wednesday.
Today I am saying so what if….
My neighbor has to call me to let me know Derby is out and running around.
I can't find my new watch and when I asked S he said he threw it in the garbage and the garbage man already took it.  When I asked him what trash can he showed me the one in the bathroom and I went through the trash.  I guess he really did throw it away because I couldn't find it.
I have to wear gloves to put a mealworm on S's fishing pole and then use the gloves to take the fish off the hook.
I found out my new favorite show Below Deck on Bravo was taped two years ago, the boat was renamed just for the show, and they hand selected these people for the show.   I know that most reality shows are staged, but this seemed over the top staged.  Bummer!!
S changes his undies a few times a day, and we are running out of underwear every three or four days.  I usually only have to wash his clothes once a week and now I am doing them two or three times a week.
My dog is now wearing my son's clothes.
What are you saying 'So What?' to this week?
Disclaimer: I have never claimed to be any great writer. So any mistakes that are made are my fault. Sometimes I mix up names B, S, and P, but I think you can figure out who I am talking about. If you find any grammatical errors just fix it in your mind so it sounds right.