July 24, 2013
Comments Off

on So What Wednesday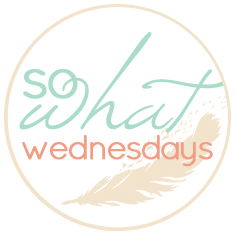 Today I am linking up with Life After I Dew for So What Wednesday.
Today I am saying so what if….
S took a nap yesterday at 4 pm and slept for over 4 hours.  Wait I slept with him for some of that.

I got up early yesterday to just to go to Target and I will do the same this morning. (As long as I can get S up and running.)

I watch more Monster Trucks than I ever thought I would.  Who knew S was going to love Monster Trucks so much that we watch them daily.

I turned the air conditioner off yesterday and opened the windows so I didn't have to freeze anymore and loved the warm humid air as it blew in the house.

S is convinced someone is washing their hands because he can hear it.  I keep trying to tell him it is just trees rustling in the wind, but he won't believe me.
What are you saying 'So What?' to this week?
Disclaimer: I have never claimed to be any great writer. So any mistakes that are made are my fault. Sometimes I mix up names B, S, and P, but I think you can figure out who I am talking about. If you find any grammatical errors just fix it in your mind so it sounds right.