July 10, 2013
Comments Off

on So What Wednesday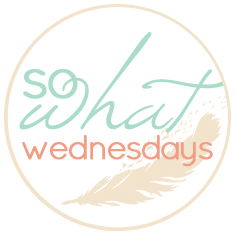 Today I am linking up with
Life After I Dew
for So What Wednesday.
Today I am saying so what if….
Monday night S crawled in bed with us sometime in the middle of the night and B got kicked out of bed, and slept in S's room for the rest of the night.
I finally broke down and got B a Magic Bullet.  I told him happy early birthday when I came home with it today from Bed Bath & Beyond.  He had been talking about wanting it a few days ago and I thought what the heck, we will use it so why not.
I haven't mailed out S's 3 ½ year pictures.  I was hoping to be able to cut out a flag with my Cricut, but not one of my cartridges has a flag on it.  I hand cut out 28 flags because that is the only thing I could think of that I wanted to send out the pictures in.  I will post pictures of the flag when I have it assembled.  I got all of it cut out and stamped; now it is just assembly.
I made another cherry pie for B and ran out of crust.  I had to use scraps pieced together to make the lattice for the top of the pie.  Another week of the cherries ripening on the trees and they got way more juicy this time.
S is a crazy kid.  I love to watch him run around and play nonstop.
What are you saying 'So What?' to this week?
Disclaimer: I have never claimed to be any great writer. So any mistakes that are made are my fault. Sometimes I mix up names B, S, and P, but I think you can figure out who I am talking about. If you find any grammatical errors just fix it in your mind so it sounds right.