April 21, 2013
Comments Off

on Snail Mail Sunday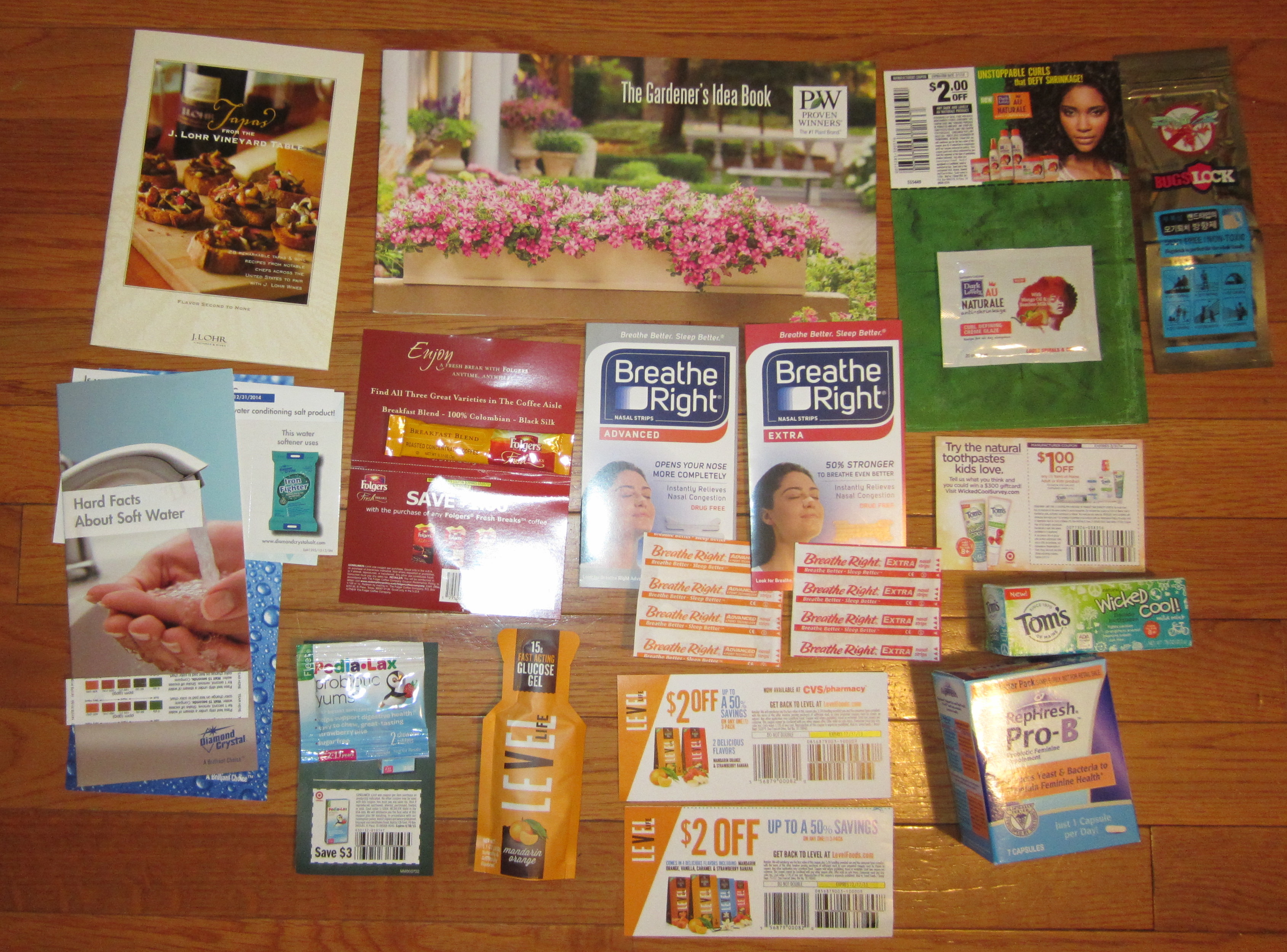 Here are all of the free items I received in the mail this past week.  I am on a quest to see how much I can actually get.
US Magazine-It's not in the picture this week, because I could not wait to read it.   I had to read about Teen Mom, Farrah.
Tapas from the J. Lohr Vineyard Table cookbook-This cookbook has all different kinds of seafood recipes. (Not for me I hate seafood so this gets donated.)
The Gardener's Idea Book-Gives tips on gardening, mostly for flowers.  I got this for B because he has the green thumb in the family.
Dark & Lovely Au Naturale-Curl Defining Crème Glaze, made for ethnic hair.  It also came with a $2.oo off coupon
Bugs Lock Mosquito Bracelet-this bracelet is supposed to repel mosquitos.  B is going to try this since he is a mosquito magnet.
Diamond Crystal Water Tester- This came with one tester strip and directions to test your water to see how hard or soft it is.
Folgers Fresh Break Coffee-I picked the Breakfast Blend and this is good for one cup of coffee.  I don't drink coffee so I am not sure if this is instant or what.  It did come with a $1.00 coupon.
Breathe Right Strips– Costco had this sample and it was for two Advanced strips and two Extra strips.  I have used these in the past and they work pretty well.  I hated when they would peel off in the middle of the night and leave the adhesive on my nose.
Tom's Wicked Cool Toothpaste- This was a Target sample.  I do not stray from my Aquafresh so I will not be trying this, but great for donation.  It also came with a $1.00 coupon.
PediaLax Probiotic Yums-This was another Target sample and it came with two tablets.  It is supposed to help with digestion in kids.  I have given these samples before to S and never notice a difference, but he loves to eat them and thinks it's a treat. (What he doesn't know won't kill him!)
Level Life Glucose Gel-Mandarin Orange flavor.  This is for people with diabetes to use if they need the sugar (I am not a diabetic so I do not know if it is for when they have high or low blood sugar. I would assume it was for when they have low blood sugar, but no idea.)  I was wondering if this would work as an energy boost for me when I get tired??  I may have to try this.  It also came with two $2.00 coupons.
RepHresh Pro-B-Balances Yeast & Bacteria to Maintain Feminine Health.  Enough said in the title to get the idea of what it used for.  It came with 7 tablets, so a week supply.
It was a good haul this week.  Most of the stuff came on Monday.  The full mailbox was a nice surprise on Monday but the rest of the week was a letdown because it was so empty in comparison.  I do not have plans to try any of this myself this week, but B will read the gardening book, use the water test strip (since this is what he does at work), and wear the Bug's Lock Mosquito Bracelet.  S has already eaten one of the PediaLax Probiotic Yums tablets and will eat the other one tomorrow.  The Folger's Fresh Break Coffee will go in the cabinet for when guest would like coffee, because B and I are not coffee drinkers.   The J. Lohr Vineyard Cookbook, Dark & Lovely Au Naturale Crème Glaze, Breathe Right Strips, Tom's Wicked Cool Toothpaste, and RepHresh Pro-B will all be put in the giveaway box for my local breadbasket donations.
Disclaimer: I have never claimed to be any great writer. So any mistakes that are made are my fault. Sometimes I mix up names B, S, and P, but I think you can figure out who I am talking about. If you find any grammatical errors just fix it in your mind so it sounds right.