August 18, 2013
Comments Off

on Snail Mail Sunday
Here are all of the free items I received in the mail this past week.  I am on a quest to see how much I can actually get.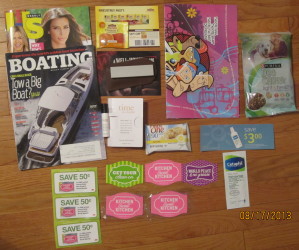 Magazines- US Weekly, and Boating
Nature Made VitaMelts Vitamin C-This is to help support the immune. The sample is 2 tablets and flavored juicy orange.  It also came with a $3 coupon.
Hand-Cut Whetstone Knife Sharpener from Copenhagen-B was not sure what this was when I opened it, but when I told him it was a stone to sharpen knives, he thought it was going to be fun to try.
Nurses Awareness Book Cover- I signed up for the Nurse Awareness kit and got a letter that said due to overwhelming demand they were not able to fulfill all items (book cover, nurses save lives magnet, thank a nurse magnet, and coloring book), and the only item they could send me was the book cover.  It is cute and I am sure someone will use it to cover a book.
Purina Dog Chow light & healthy-This is made with real chicken plus has a tender and crunchy texture.  The dogs thought these were a treat so that is what I used the food for.
Time in a Bottle-This is a daily age defying serum that looks like a lip balm that you rub on to help reduce visible signs of aging and damage not yet visible on the skin surface.  This is considered a
travel size and retails for $14.95.
Fiber One 90 Calorie Lemon Bar-This was so good.  I love lemon stuff and this is no exception.
Scotch-Brite Magnets-These were a giveaway to promote the new saying and shapes on scrub sponges.  Initially I was signing up every day for the magnets and then on the third day read it was only one per household so stopped, but low and behold I got all three packs of magnets (I should of kept signing up for them). Each pack of magnets also came with a $.50 coupon.
Cetaphil Daily Face Moisturizer with sunscreen-This is a moisturizer with broad spectrum SPF 15 for all skin types.  This also came with a $3 coupon.
This was a pretty good week for getting free stuff.  I already read the US Weekly and B is taking the Boating magazine to work.  The Whetstone knife sharpener B will try to use, the dogs loved the Purina dog food as a treat, and I enjoyed the Fiber One Lemon Bar.  I plan on trying the Cetaphil moisturizer tomorrow.  The Nature Made VitaMelts, Nurse Awareness book cover, Time in a Bottle, and Scotch-Brite magnets will be put in the giveaway box for my local breadbasket donation.
Disclaimer: I have never claimed to be any great writer. So any mistakes that are made are my fault. Sometimes I mix up names B, S, and P, but I think you can figure out who I am talking about. If you find any grammatical errors just fix it in your mind so it sounds right.