November 1, 2015
Comments Off

on Snail Mail Sunday
Here are all the free items I received in the mail this past month.  This year I am not going to seek every single freebie that is out there, instead I am going to try to get freebies that I or someone in my family would use or full size products.  For example, I would want trial/travel size items, but not the tiny sample they send on a cardboard.  Things have really slowed down as far as getting free stuff in the mail.  I used to get this much in a week and now the freebies are few and far between.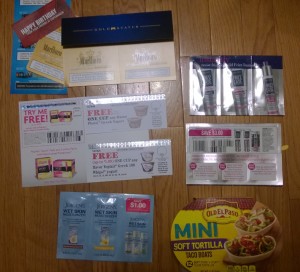 2015-October
Tobacco Coupons-I got a ton coupons from different companies.
Frizz Ease-Hair product samples
Playtex Coupon-Coupon for a free box of Playtex tampons.
Yoplait Yogurt Coupons-Coupon for a free Plenti Greek Yogurt and Greek 100 Whips! Yogurt
Jergens Wet Skin Moisturizer-Sample of two different scents and coupon
Old El Paso Mini Soft Tortilla Taco Boats
I still can't believe I used to get this in a week and now it has taken me all month to get this much.  I still get my regular magazines OK! and US Weekly.  All the tobacco coupons went into the recycling.  Since I don't need the Playtex coupon, I plan on giving it to my sister.  B will get the Yoplait yogurts for him and S.  I think we are going to try out the taco boats this week to see how they work.  The Frizz Ease and Jergens samples will go in my giveaway box to my local breadbasket donations
Disclaimer: I have never claimed to be any great writer. So any mistakes that are made are my fault. Sometimes I mix up names B, S, and P, but I think you can figure out who I am talking about. If you find any grammatical errors just fix it in your mind so it sounds right.