November 18, 2015
Comments Off

on Smart Weigh Heavy Duty Shipping and Postal Scale Review
Disclaimer: I received this product for free or highly discounted in exchange for an honest review. All thoughts and opinions expressed are mine.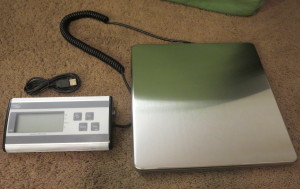 I don't ship much except for a few times a year. I was just using a food scale to weigh my packages before I would buy the postage online. Now that you can do it all from home I don't see the need to go to the post office (plus you get a discount if you do it from home). The only time I really send packages is around Halloween because I like to buy dog costumes when they are 90% off at Halloween and sell them on eBay the next year. I don't make a ton of money, but a little pocket cash. Other than that, I may send a few packages to my niece and nephew or the occasional giveaway I host.
The Smart Weigh Postal Scale has a wide base to hold all different sizes of packages. There is a large LCD display; it includes batteries, a USB cable and extendable cord. The scale can weigh packages as little as 2 oz., and up to 440 lbs.
This scale worked great. It is actually bigger than what I need or would want to store for the few times I actually weigh packages. I do like the accuracy and do not have to worry that I am going to be off. I weighed packages on my food scale and this postal scale. Both of the scales came up with the same weights.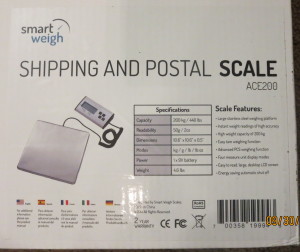 The Smart Weigh Heavy Duty Shipping and Postal Scale is only $34.99 + 15.79 shipping on Amazon.com. Click here to order your Smart Weigh Heavy Duty Shipping and Postal Scale. #choosethesmartweigh
I was chosen to review the Smart Weigh Heavy Duty Shipping and Postal Scale through Tomoson.com. Basically how it works is you select items you would like to review and if they chose you, the product is purchased through Amazon.com. A coupon code is provided from the company making the product free or highly discounted. In exchange they are looking for an honest review on their product.
Disclaimer: I have never claimed to be any great writer. So any mistakes that are made are my fault. Sometimes I mix up names B, S, and P, but I think you can figure out who I am talking about. If you find any grammatical errors just fix it in your mind so it sounds right.