April 27, 2013
Comments Off

on Silly Saturday
Silly Saturday is going to be dedicated to my pets. Since my son, S, was born three years ago my pets were my babies. Now they have taken a back burner in life. I will discuss all of the funny, gross, weird, etc. things that have happened in the last week with the pets. Right now I only have three pets, 2 dogs, PJ and Derby and one fat cat, Neezer.
Derby-You are such a little stinker.  No really, when you lick my bowl after I eat Kellogg's Frosted Mini Wheats you must get all of the fiber that is supposed to be in the cereal.  The gas that you give off the rest of the day will clear the room.  Enough said.
PJ-I know you love to chase the squirrels in the backyard and that is why I make B put field corn out for them, but you cannot eat it.  When you eat the field corn the squirrels drop it only makes you sick.  I hope the box S makes does not prevent you from chasing the squirrels or enable them to torment you more.
Neezer-When you sleep in bed with B and me you weigh a ton.  I know you like to sleep on the pillows above my head, but when you start to move and slide down on my head I am not your pillow.  You weigh too much to lie on top of my head.  It gives me bad dreams that I am being squashed in my dreams.  Roll back to the headboard and not toward me.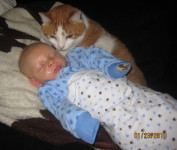 See it's not just me.  Neezer did it to S when he was only 6 weeks old.  He didn't actually lie on his head but he did cuddle up to him.  With a 20+lb cat squashing a 9lb baby is a possibility.
Disclaimer: I have never claimed to be any great writer. So any mistakes that are made are my fault. Sometimes I mix up names B, S, and P, but I think you can figure out who I am talking about. If you find any grammatical errors just fix it in your mind so it sounds right.