October 20, 2015
Comments Off

on Silicone Pet Food Mat by Tip-Top Petware Review
Disclaimer:  I received this product for free or highly discounted in exchange for an honest review.  All thoughts and opinions expressed are mine.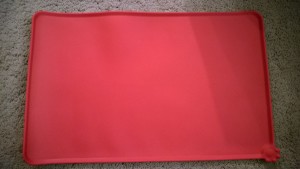 When we used to have Derby we desperately needed food mats for the dog bowls.  Derby was a messy eater and drinker.  She would scatter her food all over the floor and then take her time all day eating it off the floor.  Not usually a problem until you put a toddler in that mix.
When P started to learn how to crawl she was all over the dog food on the ground and would splash her hands in the water that Derby dripped onto the floor.  While we had no solution for the dog food all over the place other than picking it up constantly, we did find a solution for the water dripping from Derby's mouth and moustache/beard.  A silicone mat worked perfectly to hold the water so it was not getting all over the floor.  The silicone mat we had when we still had Derby has seen better days.
We finally replaced the silicone mat with this really cute mat by Tip-Top Petware.  It comes in four different colors, and I chose red because I like pops of red in the kitchen.  The silicone mat has two cute paw prints on the bottom corner.  PJ has been only too happy to eat and drink off her new food mat.
The Silicone Pet Food Mat by Tip-Top Petware is only $13.95 on Amazon.com.  Click here to order the Silicone Pet Food Mat by Tip-Top Petware.  #TipTopPetWare
I was chosen to review the Silicone Pet Food Mat by Tip-Top Petware through Tomoson.com.  Basically how it works is you select items you would like to review and if they chose you, the product is purchased through Amazon.com.  If you have a Prime Account with Amazon shipping is free and a coupon code is provided from the company making the product free or highly discounted.  In exchange they are looking for an honest review on their product.
Disclaimer: I have never claimed to be any great writer. So any mistakes that are made are my fault. Sometimes I mix up names B, S, and P, but I think you can figure out who I am talking about. If you find any grammatical errors just fix it in your mind so it sounds right.